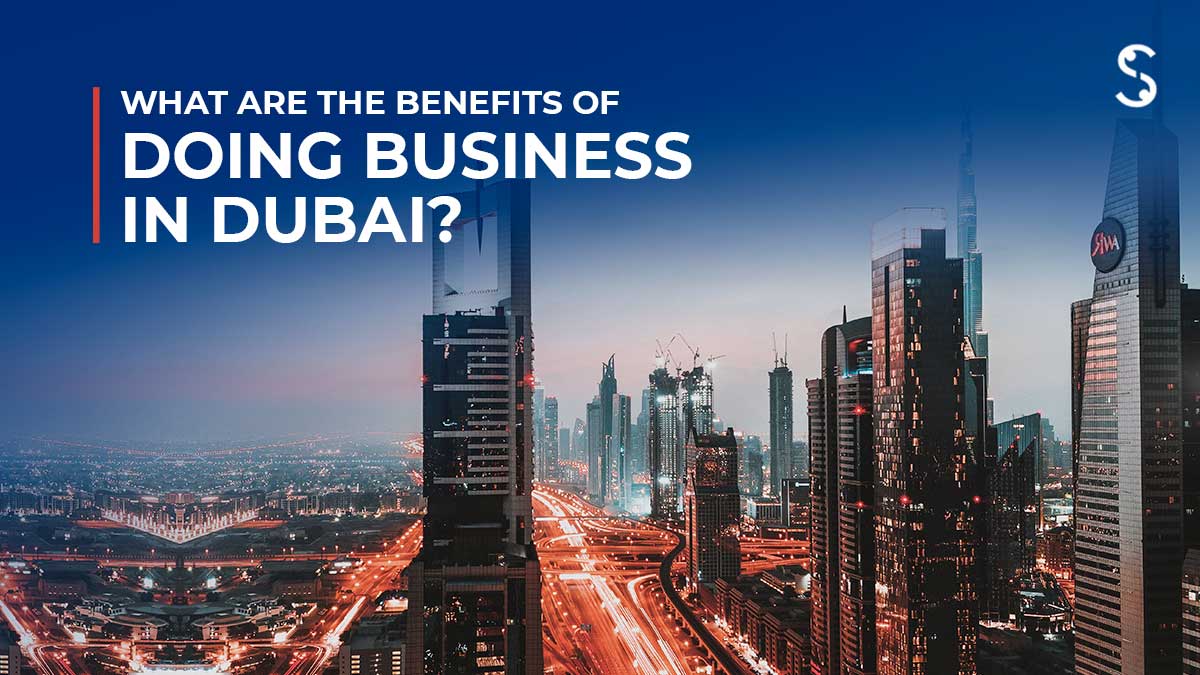 05 Jul

What Are the Benefits of Doing Business in Dubai?

While doing business in the UAE, you're in the driver's seat when you have your own business. You choose the strategies that will best guide your business into the future. Over time, you develop your delegation skills. And after you figure out how to go about your daily business, you can build an organisation, a brand, and a culture. Apart from being equipped with the know-how of your business, favourable conditions are equally important to run your business. 

Dubai offers great benefits for entrepreneurs aiming to build successful businesses. Through its environment conducive to corporate activities, Dubai empowers businesses with the freedom to take initiative and lead the way with innovative goods, processes, or marketing tactics. 

What else makes Dubai beneficial to entrepreneurs? This blog explores the benefits of doing business in Dubai.
What Are the Documents Required to Do Business in Dubai?
Before you begin setting up your business in Dubai, make sure you have all the necessary documents. The following are some of the documents:
Copies of passports and visas 

Two passport-size photographs 

Entry visa and stamp pages
The documents vary based on the business activity, company structure, and free zone. The experts at Shuraa Business Setup can provide you with a detailed list of documents. 
How to Start A Business in Dubai?
Some steps and vital considerations that you should remember are as follows. 
A broad range of businesses is allowed in the UAE. So, select a business activity that interests you. 

Choose a name for your company. Also, check the name availability and naming rules. Thereafter, register the name with the relevant authorities.

Decide on a company structure for your business. The structure could be Sole establishment, Limited Liability Company (LLC) of a foreign com

pany or

branch office of a foreign company.

Get approvals from the concerned authorities. Moreover, you may need more certifications for certain business activities.

Apply for the relevant license based on your business activities. Then, pay the license fees and submit the required documents.

Choose a business location in the

Dubai

mainland or

free zones

. 

Finally, get your license. 
Shuraa Business Setup branch professionals can streamline each aspect of doing business in Dubai. This may include visa eligibility, company license, bank accounts, and fees. 
What Is the Cost of Starting a Business in Dubai?
A business setup expenditure involves different costs. For instance, the license you choose, the activities you carry out, marketing campaigns, and many more. Thus, presenting the costs involved in doing business in the UAE is difficult. 
Shuraa Business Setup experts will provide you with the exact cost of starting your business in Dubai, depending on your choice of business.
What Are the Benefits of Doing Business in Dubai?
If you're an entrepreneur hoping to start your own business, Dubai can empower you with the push you need to begin your journey. The following are some of the benefits:
Ease of Doing Business
UAE has a rapidly growing technology and a cooperative administration. Thus, it has an ease of doing business score of 80.9 out of 100. So, starting a business in the UAE involves an easy business setup process, with almost negligible paperwork. 
Highly Competent Workforce
When you have your own business, what's better than having a skilled talent pool at hand? According to research by Coursera, the UAE tops the charts globally in the business skills of its employees in management, leadership, operations, etc. 
Moreover, the country keeps on making reforms to attract and retain more and more talent. Hence, you can recruit a skilled workforce that gives you the confidence you need to keep moving forward. 
Tax Exemptions
Triggered by the favourable environment blueprint for a flourishing future, the UAE charges almost zero taxes from entrepreneurs. This is one of the most significant benefits of doing business in the UAE. (Some businesses might be mandated to pay a 5% VAT on certain business activities.)
100% Ownership
Dubai has several specialised free economic zones, named free zones. In the UAE, entrepreneurs can have 100% ownership of their businesses. So, if you build your own business in Dubai, you can do what you want, how you want, when you want. 
Profitable Geographical Location
Dubai leverages its natural advantage to the fullest — its strategic location. The city is located at the crossroads of East, West, North, and South. Thus, it serves as a link between manufacturers, producers and suppliers all over the world. 
Dubai is an airport and seaport hub that facilitates a large chunk of trading and tourism activities. This promotes the growth of the import-export, re-export, and tourist industries. 
State-Of-The-Art Infrastructure
Dubai has witnessed huge infrastructural transformations over the years. This has been attracting a huge number of entrepreneurs globally. Furthermore, Dubai offers an efficient public transportation system. It also has outstanding telecommunications and other amenities. 
With its most advanced digital infrastructure, Dubai has adopted many technological transformations. In fact, the UAE Digital Economy Strategy emphasises more digital transformations in the future. This increases opportunities for doing business in Dubai.
Complete Repatriation of Profits
Foreign businesses are not required to give a part of their capital invested and profit earned as taxes to the UAE government. All kinds of businesses on the UAE mainland and free zones are permitted to repatriate their money and profits completely. 
Simple Visa Procedure
With relevant documentation in order, getting a Dubai visa is easy. In fact, the UAE has introduced new visa rules. These new rules aim to boost the flexibility of the foreign national-dominated job market. 
Quality of Life 
4 out of 5 persons in the UAE are ex-pats. Hence, Dubai has a multicultural society. Living in such a diverse place makes people aware of different cultures. This helps them build good relationships and maintain harmony. 
Moreover, the Dubai population prefers premium products and services. Starting a business in Dubai can be thus helpful for lifestyle-related sectors.
Supportive Government 
The Dubai government continually provides incentives and safety to foreign entrepreneurs. It keeps on amending the norms to conduct business to ensure increasing business opportunities. 
Also, the government organises various international events now and then. Moreover, it offers an easy set of norms to carry out business activities. 
The most powerful business ideas are more likely to arise when they get cooperation and traction from their surroundings. And, Dubai can prove to be a beneficial location for your business.
Start Your Business in Dubai With Shuraa
As an entrepreneur, you'd need to invest long hours in growing your business. Helping you out, Shuraa can make the entire business setup process smooth from beginning to end. We are here to help you start doing business in the UAE. We can also devise custom-made business setup solutions if your business has some specific needs. Get in touch with us right away!