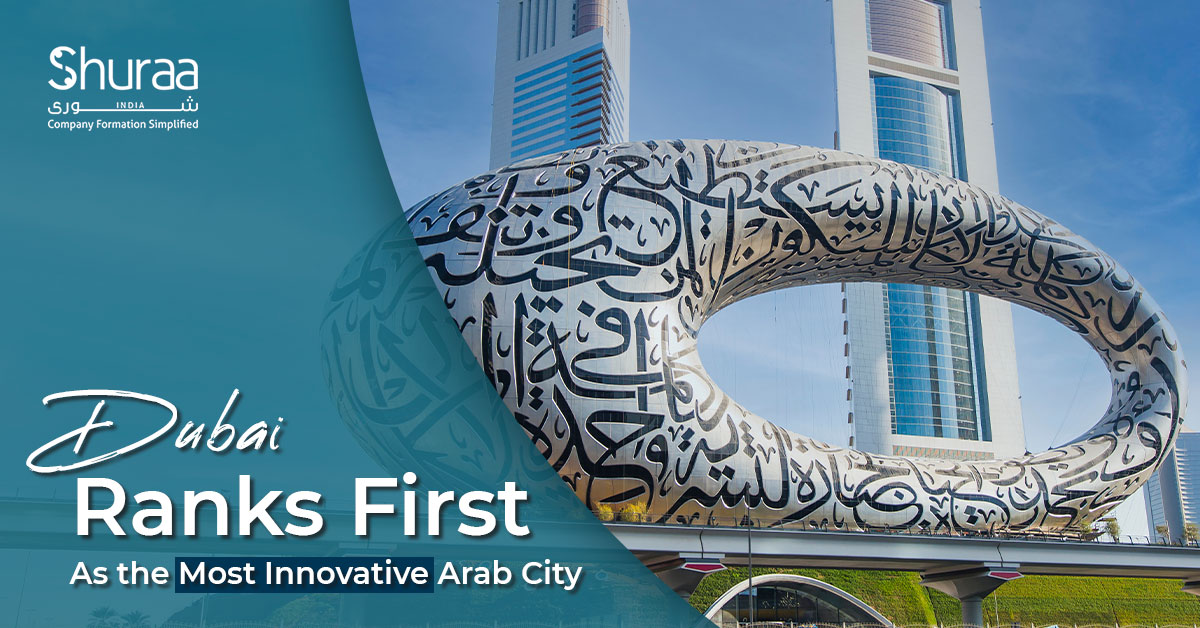 04 Nov

Dubai Ranks First As the Most Innovative Arab City

The United Arab Emirates has had tremendous growth in the 50 years since its founding in 1971, especially in Abu Dhabi and Dubai, where most of the nation's citizens reside. Due to its autonomy from the oil industry, Dubai is a particularly prosperous emirate. Trade, transportation, technology, tourism, and finance form the backbone of its diversified economy. The City receives funding from a variety of sources and has expanded and diversified its economy. 

Undoubtedly, Dubai has shown phenomenal growth in the past years, making it the most innovative Arab City, leaving behind the likes of Beijing and Shanghai. And so, if you want to establish a business in Dubai, you are already on the right track. A business setup in Dubai can be highly fruitful if done correctly. Want to know how? Keep reading. 

This blog will walk through why Dubai ranks first as the most innovative City, followed by the process of a business setup in Dubai. Let's start! 
What Makes Dubai the Most Innovative Arab City?
Dubai is famous for several reasons, whether in the hospitality field or technological advancement. It is one of the many leaders in the world, setting high standards for growth and development. 
Here are some reasons that make it the most innovative Arab City – 
1. Digital Government 
The City of Dubai was placed 5th worldwide in the 12th edition of the United Nations assessment of the digital government landscape across all of its 193 members. Dubai has developed a distinctive style of government that promotes human happiness and well-being in all sectors of life. This has been made possible by its dedication to implementing cutting-edge technologies and nurturing a culture of excellence.
2. Futuristic Projects
Dubai is renowned for its enormous projects, many of which have shattered world records. For instance, The Royal Atlantis Resort & Residences is said to include 231 luxury apartments, a beautiful rooftop infinity pool dangling 96 meters above The Palm (level 22), exclusive international celebrity chef restaurants, and more. 
Or Meydan One, which will have the world's longest indoor ski slope and the world's largest dancing fountain. Undoubtedly, Dubai leverages technology and infrastructure to stay well ahead of time. 
3. Technological Advancements 
Dubai has always been ahead of others regarding world-class infrastructure and technology. 
For instance, the announcement of Dubai Urban Tech District. The constructed area will be 140,000 square meters, and it will be situated on the Creekside of the Al Jaddaf neighborhood in Dubai. 4,000 employment in green urban technologies, education, and training are expected to be created by this new district. 
Adding to this is the City's deployment of advanced technologies like the Internet of Things (IoT), blockchain, the cloud, networking, big data, and more to support goals like self-driven cars and testing of delivery and social robots. 
What Makes Dubai a Hub for Businesses?
A business in Dubai can bring you fortunes (quite literally!), given the many benefits. Here are a few notable advantages that make Dubai a hub for businesses – 
Negligible paperwork in the business setup process since everything is digitized.

The conducive business environment because of the government's supportive policies.

Strict rules and regulations ensure a professional business environment. 

Ideal location as Dubai sits at the crossroads of the world. 

Open access to local and international markets to expand your business and boost your profits. 

Opportunity to pitch for government projects, mainly if your business is established on the Mainland. 

Effortless visa process and latest resilience visa updates.

Attractive taxation system. 

Access to world-class infrastructure, properties, and technologies. 

Top-notch, exceptionally skilled workforce that will help your dreams come true and more. 
7 Steps to Start your Business in Dubai
The process of setting up a business in Dubai is pretty straightforward. What makes it so simple is the supportive government and authorities. The following is a general overview of the business setup process here –
Start by doing market research to identify the scope of your preferred business activity. The UAE offers more than 2,000 business activities. Accordingly, decide the license that your business will need.

Decide on your preferred location and company's legal setup. Dubai over more than 20 free zones to set up your business. You may also choose to set it up on the Mainland. Once decided, choose an appropriate legal setup. Note that not all free zones in Dubai support all legal setups. 

The next step entails choosing a company name. The UAE lists strict naming rules that must follow. 

Next, apply for initial approval from the relevant authorities. Obtaining approval indicates that the government has no problem with you starting a company in your chosen activity.

Once you have a go-ahead, start finding an office space and enter into a tenancy contract. 

Next, gather all documents, apply for the required license, and pay the necessary fees. 

If all goes well, the authorities will issue you your license. 
Documents required for your new Company
Dubai provides excellent business opportunities and a suitable environment for thriving businesses. However, you must have all the necessary documents to start a business in Dubai. The following are some basic documents that you will require – 
Passport sized photographs 

Photocopies of passports of all stakeholders 

Entry visa or stamp page copies
You will also need to present more documents based on your chosen activities, location, legal structure, and more. Shuraa Business Setup experts will help you with the complete list. 
What Is the Cost of Setting Up a Business in Dubai?
The business setup cost in Dubai depends on several factors, including your license type, license fee, location, legal structure, chosen activity, trade name registration, office space, and more. And thus, providing an exact cost may not be possible. 
However, to give you an estimate, a business setup with a residency visa in Dubai can cost you anywhere between AED 18,500 – AED 30,000. Business setup experts can help you with the exact cost and its breakdown after considering all the necessary factors.
Start Your Business With Shuraa 
By now, you must have an idea of the kind of opportunities you can get as a business established in Dubai. It is the first choice of business location for several entrepreneurs and businessmen, and for all the right reasons. However, as much as it may sound simple, getting professionals involved in the process will help you establish your business faster and more smoother. 
Professionals like experts from the Shuraa are well-versed in the business setup process and documents. They'll help you obtain the necessary permissions and meet the pre-requisites, if any. Also, they'll streamline the entire process to avoid mishappenings. All you need to do is get in touch with them and let them take care of the rest!