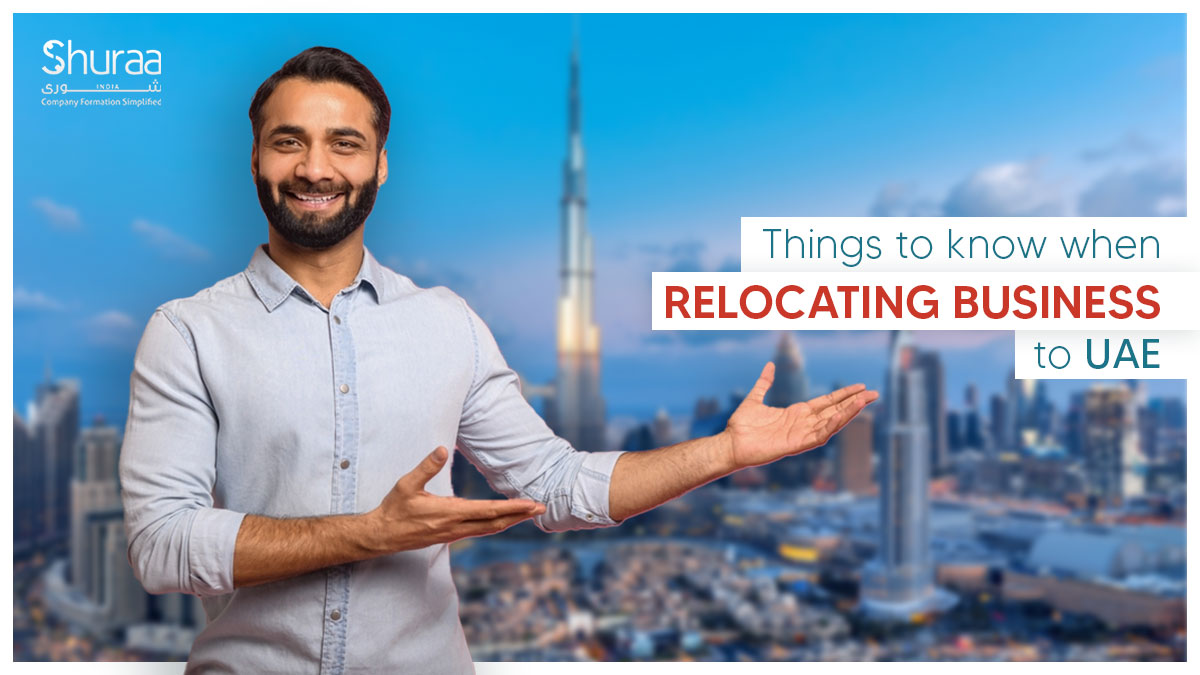 30 Mar

Things to know Before Relocating Business to UAE

Some of the most renowned businesses and firms in the world are headquartered in the United Arab Emirates (UAE). It is also the place where entrepreneurs' aspirations come true, as several businesses that began small, like Shuraa Business Setup, are now leading their respective industries because of the country's supportive business environment. Relocating business in the UAE is undoubtedly among the most common choices investors and businesspeople make. 

Dubai, the nation's and, by many accounts, the Middle East's financial hub, is the driving force behind this sustainable commercial and economic transformation. With its pro-business legislation, the Emirate's innovative administration promotes international investment. Dubai is known for its simple and trouble-free business setup process. 
The Advantages of Moving to Dubai for Business Migration
There are several things to think about when you are doing a Relocation of business in the UAE. The United Arab Emirates is one nation that is drawing more and more international businesspeople. (UAE). The UAE is a great destination for business relocation for a number of compelling reasons, which we shall go over below. 
Political neutrality is one of the primary benefits of choosing for Relocation of business in the UAE. The UAE's official strategy demonstrates its commitment to upholding political neutrality. Because of this stability, companies may function in a safe and secure atmosphere, allowing company owners to concentrate on expanding their operations without being concerned about political unrest. 
When relocating a business to a new country, there are several factors to consider. One country that continues to attract more and more foreign businesses is the United Arab Emirates. (UAE). There are several convincing reasons why moving a business to the UAE is a wonderful idea, which we will discuss below. 
Things to Know When Moving Your Business to the UAE
Following are the key points one must keep in mind when they move to Dubai for business migration: 
Understand the Legal Requirements: 
Make sure you comprehend the legal procedures, such as acquiring a business License and registering with the appropriate authorities, before moving your company to the UAE. 
Choose the Right Location: 
The UAE is home to a number of commercial centers, each with special characteristics. When selecting a site, take into account elements like cost, accessibility, and market potential. 
Research the Market: 
Before starting a business in the UAE, analyze the market and determine whether there is a need for your goods or services. You can better adapt your offers to the regional market by doing this. 
Consider the Cultural Differences: 
It's essential to comprehend and show respect for regional traditions and customs because the UAE has a distinctive culture. You may establish connections with clients and business partners by doing this. 
Find Reliable Partners: 
Starting a business in the UAE can be difficult, particularly if you are not familiar with the regional business climate. Think about collaborating with a nearby partner who can assist you in the process and offer insightful advice. 
Understand the Tax System: 
UAE is one of the countries where the tax rate is the lowest.  
Plan for Logistics: 
In the UAE, shipping and logistics might be difficult, particularly if you're importing items from overseas. To guarantee that your business operations function effectively, properly plan your logistics. 
Embrace Innovation: 
The UAE is renowned for its innovative business climate and emphasis on technology. To keep ahead of the competition and seize new possibilities, adopt new technology and approaches. 
What is the Process of Relocating Business in the UAE?
Following are the steps one must follow to set up a business in UAE: 
Choose a Business Activity
When selecting a business activity for your firm, take into account first how viable the activity is in relation to the UAE market. Before creating a business, make sure to carefully assess the venture's potential and profitability. Then, decide when to launch a business in Dubai, United Arab Emirates. 
Choose a Jurisdiction
The UAE market is divided into the Mainland, Free Zone, and Offshore economic zones. These economic zones are often referred to as jurisdictions. Every jurisdiction has its own specific set of regulations and laws governing the formation of enterprises. They also offer amenities for a range of business needs. However, your requirements and the nature of your company activities will determine the jurisdiction you select for your enterprise. 
Finalize the Company Structure
Choosing your company's legal structure is essential when establishing a business in the UAE. It defines the guidelines and tone for managing gains and losses as well as how you should distribute your assets and resources. In the early phases of planning, decide on the organizational or legal structure of your business. 
This will help to give your company a layout. Before submitting your License application, you must decide on the legal structure for your company. You can register your business in the UAE using a variety of legal forms or business structures, including the ones listed below: 
Free zone company

 

Sole Establishment

 

Civil company

 
Get Approval for Your Company Name and Activity
The Department of Economic Development (DED) must approve the trade name for your firm before you can move on and start the procedure for setting up your business in the UAE. At this step, your selected business endeavor and the name of your corporation are also authorized. After receiving the appropriate permissions, you must submit the required documentation to apply for your UAE trade License and begin the process of establishing your business in Dubai. 
Apply for Your Trade License
Trade licenses, usually referred to as business licenses, are available in the United Arab Emirates in four main varieties. These kinds include: 
You may also apply for any of these trade License s if you want to start a business on the UAE mainland. The License structure in UAE free zones varies and depends on the kind of commercial activity your business chooses to do. 
Register Your Business
Obtaining a License and registering a business happen at the same time. However, the whole documentation and approval process entails several procedures. During this phase, you must also get the required government clearances, as outlined by the Department of Economic Development. Additionally, depending on the nature and operations of the firm, different paperwork is required. 
Find a Local Agent (If required)
Finding a local partner may be necessary before beginning a certain business in a particular area of Dubai. A citizen of the UAE may work alone as a partner or agent for an Emirati. Finding a trustworthy local agent may be difficult, especially for an aspiring entrepreneur looking to start a firm in Dubai. An expert in business formation may connect you with companies that provide corporate sponsorship, where you'll have complete management and formal approval of your business. 
Get External Approvals
Depending on the nature of your firm, DED can require additional permissions from governmental or non-governmental bodies. For instance, certain firms would need to secure permits from the municipality, specific banks, embassies, etc. 
Prepare Your Memorandum of Association (MOA)
It's crucial to know the nuances of a Memorandum of Association to establish a firm in Dubai. (MoA). Therefore, before drafting the MOA, make sure to seek competent advice. The MoA should be written in accordance with the UAE government's instructions. It should also take your business objectives into consideration when founding a company in Dubai. 
Rent an Office Space
Depending on your specific requirements, you might choose a shared workplace in a business center or rent office space. Your office space affects the number of visas you may apply for from the Department of Economic Development (DED). 
Get the Ejari and Tenancy Contact
If you wish to relocate your business to Dubai, you could need an Ejari. This Tenancy Agreement is between you and the Real Estate Company whose office space or shared workspace you desire to rent. The Ejari website is under the control of the Real Estate Regulatory Agency. (RERA). 
Additionally, it ensures that both tenants are treated equally and honestly. You also need to upload your rental agreement and a few additional documents to activate your Ejari account. Ejari is essential since you need it to apply for or renew visas for your family members and staff. 
Get Initial Approval
You must first get initial authorization from DED to launch a business in Dubai. This certification demonstrates that the UAE government has granted you permission to open a company there. Without this permission, you cannot proceed to the next step of the application process. 
Collect Your Trade License
You must submit the relevant paperwork to the Department of Economic Development together with the applicable government payments in order to obtain your trade License in order to move your business to Dubai. 
Conclusion
In conclusion, moving your company to the UAE might present several chances for development and success. However, without the aid of experts who are familiar with the local market, navigating the intricate legal and commercial landscape may be difficult to move your business to Dubai.   
Working with experts who have expertise in UAE company relocation can make the process easier and more productive, from comprehending the legal requirements to locating trustworthy partners and optimizing your tax strategy. So, if you're thinking about the relocation of business in the UAE, be sure to enlist the aid of skilled experts to guarantee your success.