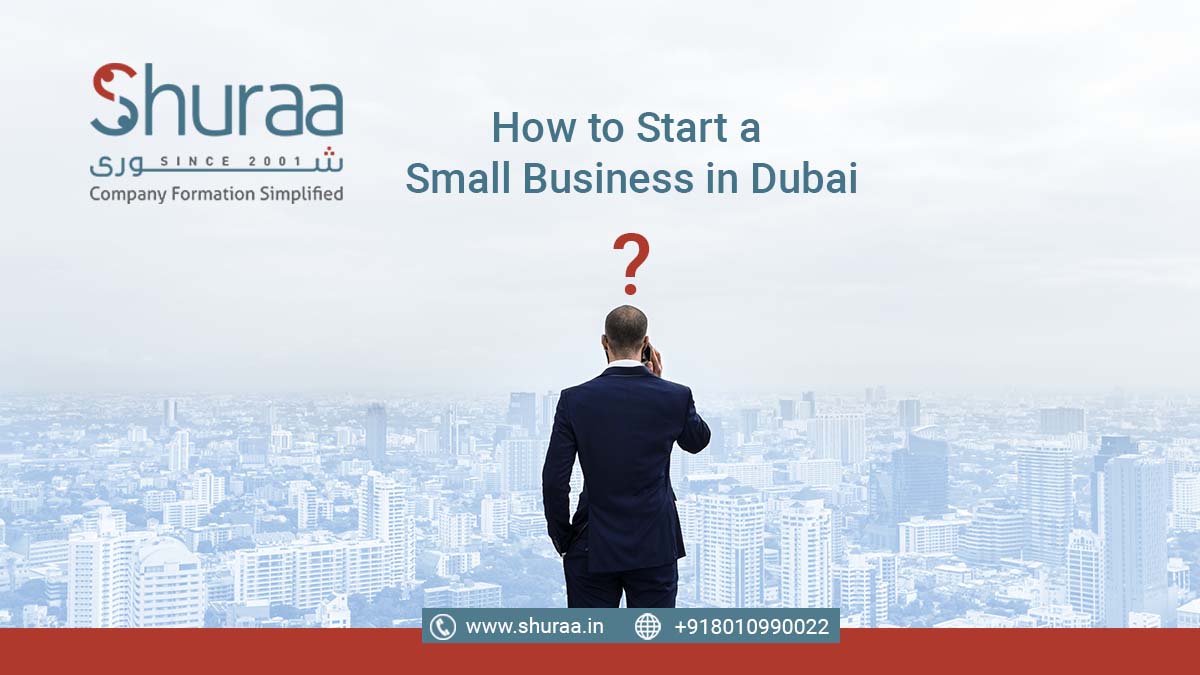 13 Jun

How to Start a Small Business in Dubai?

The UAE is a preferred choice of many new-age investors and entrepreneurs when the discussion is about setting up a small business. The local businesses in Dubai enjoy increased surplus and garner sizable revenue right from the start, thanks to the robust working environment, business-friendly laws, and a supportive government.

Establishing a small business in Dubai isn't rocket science, and you can launch your company within two to three weeks when you follow the right procedure. Therefore, it's better to get in touch with the business consultants at Shuraa Business Setup who provide end-to-end business assistance by taking care of everything related to business formation in the UAE at nominal costs.
Steps to start a small business in Dubai?
Business aspirants looking to launch their small business in Dubai need to apply for a small business license to legitimize their business activities. The best part is that the small business license cost in Dubai is very affordable, and here's all you need to do to get one:
1. Finalize your company's legal structure
One of the best advantages of setting up your small business in Dubai is the availability of a plethora of legal business structures. You're free to open a sole proprietorship company in the UAE and enjoy 100% business ownership.
Moreover, you can form a 100% owned business mainland region and make the most of Dubai's local marketplace. Local businesses in Dubai can also set up a digital venture at an affordable cost and get started with their dream venture.
2. List down the business activities
The DED maintains a list of more than 2,000 permissible business activities, and you need to choose the ones that match your requirements. All legal entities must list down these activities before applying for a license in the UAE. Ensure that you don't miss out on any of the legal operations as local businesses in Dubai can't perform a business activity not covered under their license.
3. Reserve a trading name
Trade name reservation is critical as it's a mandatory requirement while applying for the initial approval certificate. Be it a small firm or an established enterprise – all need to reserve a unique trading name for their companies. Moreover, you should keep a name that's indicative of your business activities and isn't misleading in any sense.
Ensure that you follow all the naming convention protocols established by the government. Your company's name should be free of any derogatory terms or controversial words. Furthermore, always use a person's full name if you wish to keep it as the official name of your small business in Dubai.
4. Procure an office space
Renting an office space in the UAE is a convenient option as it saves you from making hefty upfront investments in real estate, and you're also saved from the hassle of selling the property once you plan your exit. Furthermore, Shuraa Business Setup also provides affordable virtual offices so you can launch your dream venture remotely in the UAE.
All you need to do is get into a sustainability contract with us, and we'll take care of the rest. Remember that all legal entities in the UAE need to have a professional address to receive all the formal documents and legal letters related to their local businesses in Dubai.
5. Apply for a business license
Once you're done with all the steps mentioned above, it's time to apply for a small business license. It's mandatory for companies to have a valid business license at any given time to prove their legitimacy in the UAE.
Moreover, a business license also holds the formal record of all your permissible business activities, and you need to obtain external approvals for operations not mentioned covered under your license. You need to renew this license annually, and the fee for the same also adds up to the overall small business license cost in Dubai.
6. Secure additional approvals
Are there any business activities that you wish to carry out in the UAE but aren't covered under your small business trading license? If yes, don't worry. All you need to do is obtain additional approval for such activities from the concerned bodies.
These can include consent from a local governing body, permission from the customs authority, an agreement with a regional transport facility, etc., based on your business requirements. The business experts at Shuraa Business Setup handle all of this and more by doing all the heavy lifting for you so you can focus on other growth-related activities.
7. Open a bank account
Opening a corporate bank account in the UAE is essential as you need to manage the various monetary transactions associated with your small business. It's imperative to collaborate with a bank that offers robust and reliable banking services and provides long-term business benefits. Moreover, ensure that you don't make a rushed decision and finalize a bank after thorough research.
8. Manage visas
Managing visas for yourself and your family members is easier than ever in the UAE after the introduction of new visa reforms that empower you to secure multiple visas. Therefore, you can also apply for visas for your domestic staff and other relatives. Furthermore, the visa permits also depend on the size of office space you secure for your small business.
What paperwork goes into launching a small business in the UAE?
You should have all the mandatory documents at the time of applying for your small business license. Here's a curated list of documents to make things easier for you:
A descriptive business plan document
Duly filled application form
MoA and LSA agreements
Payment receipt of trade name reservation
Passport copies of all the shareholders in your company (if any)
8 Best Small Businesses in Dubai and UAE
Restaurant
Events Company
Construction
Health and wellbeing
Transport
Real estate
Web development
Cleaning services
Consult with Shuraa
Your decision to open a small business in Dubai is the right one, thanks to the cost-effective working model, and 100% repatriation of profits. several tax exemptions and more than the business owners enjoy in the UAE.
We help you make a name for your brand in Dubai's marketplace and take care of everything you need for setting up your small business.
Our business consultants take care of documentation, banking, licensing, etc., so you can focus on the growth of your small business. Connect with Shuraa today to know more!
Click here to book a free consultation with our experts and know more about setting up your small business in Dubai.