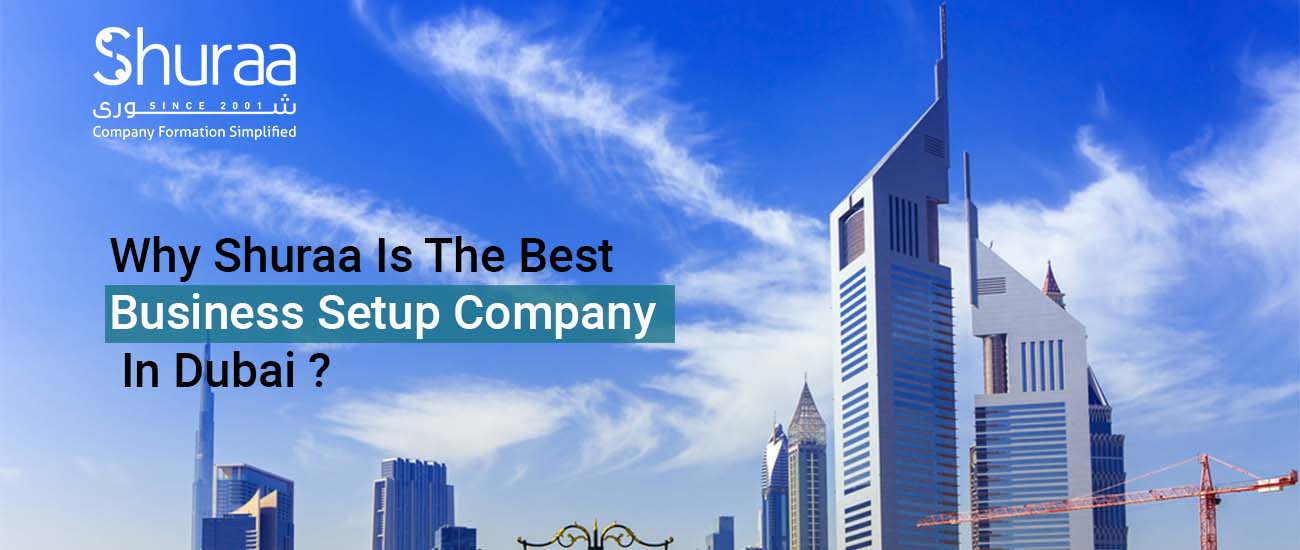 25 Feb

Why Shuraa?

Working with the best business setup company in Dubai will allow you to take advantage of the city's favorable business climate and seemingly limitless opportunities. With so much competition, selecting the agency that will best serve your business strategy can be challenging.

So if you want to partner with the best business setup company, keep reading. This blog will discuss all you need to know about business setup companies, including a few tips for selecting a reliable business setup company in Dubai.
How to Choose Business Setup Services in Dubai?
Due to the numerous advantages of establishing your business in Dubai, your decision to do so was wise. But how do you pick the best services for business setup in UAE to support you on this path? The following are a few points you must remember, consider, and compare the businesses offering company setup services on –
1. A Reputable Professional Group
Only true professionals have what it takes to give your dream business the attention it deserves. A skilled business setup services staff follows all established guidelines meets all deadlines, and assists you in any way they can to ensure a smooth Dubai business establishment.
Always hire company formation experts with a track record of success in this field and extensive knowledge of a wide range of business industries. A reputable consulting firm will not let you down because they are competent and understand the importance of each client's business.
2. Diverse Experience
Branch offices of large corporations and MNC offices are shared in the UAE. On the other hand, modern investors, business owners, and fledgling startups find a home in this country for their endeavors. To meet your changing business needs, your chosen business setup services should have a wealth of business experience.
You can get help from consultants who understand every stage of a startup, from ideation to sustainable growth.
3. Comprehensive Market Knowledge
To ensure that you receive the right business advice at the right time, the business setup consultants you choose must be well-versed in the legalities, operational guidelines, and lesser-known legislation. To establish a company in Dubai, you must first consult with several government officials.
Professional business setup service providers handle everything to ensure you don't run into any legal issues in the UAE. To ensure that your endeavor is entirely compliant and free of legal constraints, the business professionals you choose must also be familiar with various international best practices for business creation and local standards.
4. Services for Business-Specific Setup
A reputable consulting firm specializing in free zone establishment could be your ideal business setup partner. However, you will require business experts who are well-versed with the Dubai mainland if that's where you wish to set up your company. As a result, always look for business-specific setup services based on your requirements.
When the wrong business formation agency is chosen, time, money, and effort are wasted. A consulting firm that provides services tailored to your needs promotes a calm and effective partnership that allows you to achieve your objectives.
5. Post Establishment Services
Many business setup service providers provide proactive support until your company is firmly established in the UAE. However, it would help if you looked for companies that offer hassle-free post-installation assistance. Even after you've formed your company, you'll still have a lot of paperwork to deal with, which a reputable setup service firm will handle for you.
After establishing your Dubai company, you must take care of your family members and your visas. You should also open a business bank account with a reputable bank. A company offering post-establishment services can take care of these matters.
What Documents Do You Require for Setting up a Company in Dubai?
You will have to provide the following documents for complete registration for setting up a company in Dubai.
Shareholders information.
Passport and Visa of the shareholders.
Application form.
PDF of the business plan.
Board resolution documents.
Memorandum of Association (MOA)
Articles of Association (AOA)
Furthermore, you may require additional documentation depending on your company's chosen activity, corporate structure, location, and other factors. Depending on your needs, the Dubai company setup experts at the Shuraa Business Setup can provide you with a complete document list.
How Much Does It Cost to Start a Business in Dubai?
Several factors influence how much it costs to start a business in Dubai. These include your company's operations, license type, location, and other factors. A Service license can also be purchased for as little as AED 20,000.
Any value between 20,000 AED and 30,000 AED is a reasonable guess. It is critical to remember that if you require specific privileges or want to carry out highly regulated activities, the cost of forming a company in Dubai will rise.
You can contact the experts at Shuraa Business Setup for assistance in forming a company. We will break down the entire cost for your understanding, see where it can be reduced, and ensure that you never overpay. 
Why Choose Shuraa for Business Consultancy in Dubai?
When you work with the business experts at Shuraa Business Setup in Dubai, it's easier than ever to establish a business offshore, on the mainland, or in a free zone. They have a wealth of business establishment experience and are available to help ex-pats, UAE citizens, and other prospective business owners set up companies in the UAE.
You can take advantage of their extensive services, which include finding low-cost office space, opening a business bank account, obtaining visas, obtaining documentation, obtaining a trade license, and much more. You can also select the services that best meet the needs of your business. They also offer customized business setup packages to meet your unique business setup needs. Shuraa's client-first approach will ensure that your interests are always at the forefront.
Over 35,000 entrepreneurs have started their businesses with the help of Shuraa, a leading business setup company in Dubai that has been operating for 21 years. Arrange a free consultation with Shuraa's legal advisers to learn everything you need about establishing a company in Dubai, renewing your trade license, boosting your income, and much more.
Set Up Your Business With Shuraa
A business setup company in Dubai could be highly beneficial to you. Hiring a business consultant with extensive business experience, such as Shuraa Business Setup Branch, could completely change the situation. 
So, what's the hold-up? Partner with a reputable business setup service provider to start your dream business in UAE. Seize this profitable opportunity with both hands and contact the Shuraa Business Setup, the best business setup company, to assist you in establishing a reputation for your company in the industry. 
Keep in mind that your choice here will have a significant impact on the process of launching your business.