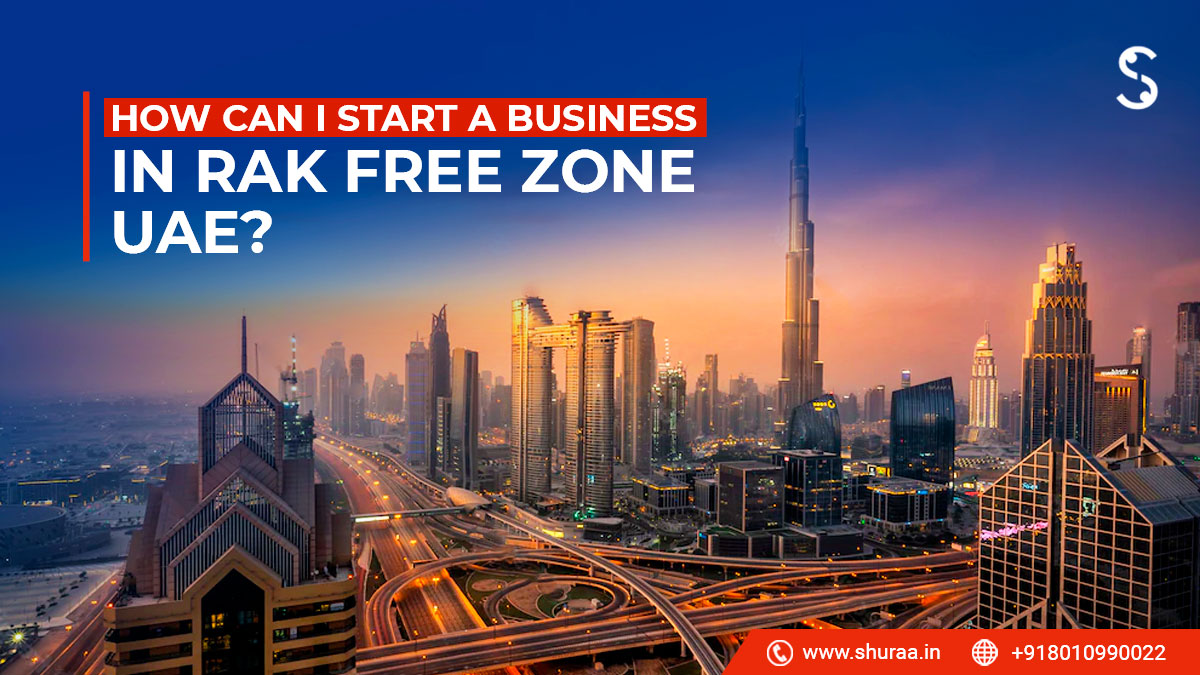 14 Jul

How Can I Start a Business in RAK Free Zone UAE?

Established in 2000, Ras Al Khaimah Free Trade Zone (RAK FTZ) is a world-class business and industrial hub, offering many cost-competitive packages with attractive incentives. Currently, the free zone is home to over 15,000 businesses from over 50 industry sectors. It aims to continue easing processes for entrepreneurs and attain service excellence. Thus, it is known for its cost-effective and tailor-made packages.

In the future, RAK Industrial Strategy 2030 aims to boost RAK's GDP through its initiative 'Make, Manage, Move.' This way, entrepreneurs and other supply chain players would benefit even more from RAK FTZ's packages. Also, RAK FTZ's collaboration with its strategic partners will continue to ease the business setup process for Indian entrepreneurs. 

No wonder RAK FTZ is a promising space for business establishments. This blog explores the procedure and costs associated with business setup in Ras Al Khaimah.
What Are the Benefits of Starting a Business in the RAK Free Zone?
RAK FTZ is incredibly welcoming to a diversity of businesses, thanks to its minimal bureaucracy and simple setup process. Besides, several other benefits of Ras Al Khaimah free zone company setup are as follows:
All entrepreneurial services are available in RAK FTZ and accessible via the

RAK Portal 360

. So, there is a huge reduction in the time to process paperwork and requests for

RAK free zone company formation

.

The cost of operating and living in RAK FTZ is up to

50% lower

than in other regions in the UAE.

RAK FTZ also provides business packages made exclusively for female entrepreneurs. Thus, launching a woman-led business is easier than ever now.

Indian entrepreneurs can find tailor-made packages based on their

RAK free zone company setup requirements

, selecting their business activities, license, and facility types.

Through RAKEZ's strategic partnerships with various banks, Indian entrepreneurs can

quickly open business bank accounts

and get access to innovative financing solutions with personalised services.

Using the RAK FTZ's

dual license structure

, businesses can operate from the free zone and mainland with one office.

Your business will benefit from convenient logistics thanks to the proximity of Saqr Port and Rak International Port to most emirates.

You can build on-site staff and labour accommodations. Moreover, the free zone has customisable offices, state-of-the-art warehouses, and industrial land plots for large projects.

RAK FTZ can provide your business with an extensive highway network, cutting-edge digital infrastructure, and world-class utilities. 

Ras Al Khaimah has separate free zone parks dedicated to office clients, heavy manufacturing, trading and light manufacturing, and educational institutions.

RAK FTZ allows you to have 100% business ownership. Also, you can completely repatriate profits earned and capital invested. Furthermore, the UAE has a tax-free environment.
What Documents Do You Need to Start a Business in the RAK Free Zone?
Before you start the RAK free zone company formation process, arrange the relevant correct and valid documents. Following are some of the required documents:
Copies of passports and visas 

Two passport-size photographs 

Entry visa and stamp pages
Shuraa Business Setup professionals can assist you with the complete list of required documents to be presented to the concerned authorities.
How to Start a Business in the RAK Free Zone?
After you have gathered the required documents, you can begin the process for business setup in Ras Al Khaimah. The steps below will help you understand better:
1. Decide the Business Activity
The RAK free zone allows a wide range of business operations. These activities include commercial, educational, e-commerce, media and so on. So, choose a feasible business activity that you're confident in. 
Shuraa Business Setup can help you with the entire list of business activities allowed in RAK FTZ. Then, Shuraa can also check whether your business requires you to submit a business plan. (Not every business is mandated to submit a business plan in RAK FTZ.)
2. Choose a Name
Your company's name is its first impression. So, decide on an appropriate name for your business. Thereafter, register the name with the concerned authorities.
The UAE government has certain norms for naming companies. Shuraa Business Setup can help you with the entire registration process, including company naming rules and Ras Al Khaimah company registration fees.
3. Decide Your Company Structure
Choosing the proper company structure for your business is a key decision. A proper structure makes the company run more efficiently. So, choose a company structure from Sole proprietorship, Limited Liability Company (LLC) of a foreign company or branch office of a foreign company.
4. Apply for the Licence 
Apply for the appropriate license based on your business. RAK FTZ provides many license options, including dual license structures. Shuraa Business Setup can help you select the relevant license from the complete list and thereafter apply for it.
Moreover, there are certain restrictions on the number of activities that can be carried out under one license in RAK FTZ. Also, you need to apply for your visas, along with some third-party NOCs (if required). Shuraa experts can better help you get appropriate licenses, approvals, and visas.
5. Choose a Facility 
It is mandatory to lease a facility to start a business in RAK FTZ. So, after applying for the license, choose a suitable facility. RAK FTZ offers a vast type of facilities, such as coworking spaces and serviced, standard, and executive offices. You may consider factors like amenities, size, and budget. 
Also, based on your business activity, you can lease warehouses and land for development. If required, you can provide your male staff with convenient accommodations in the industrial zone itself.
6. Get Your Business Licence
Once you've completed all of the requirements, you'll be able to get your business license. 
There is a slew of other requirements to be completed before you can launch your business. Shuraa experts are better proficient to help you with them, including establishment cards, entry permits, medical tests, and related rules based on your business activities.
7. Launch Your Business
Thereafter, you can launch your business and carry out subsequent business activities as you've planned.
What Is the Cost of Starting a Business in the RAK Free Zone?
A host of factors determine the cost of business setup in Ras Al Khaimah. These include your business type, licenses you need, fees, and more. The business setup cost increases even more if you want to have workforce accommodation. So, giving a specific number is not possible. 
Nonetheless, to give you an idea, the license will cost you approximately AED 15,000 to AED 22,000, but there are other costs to consider on top of this. Shuraa Business Setup experts can help you with the total cost and ensure you spend wisely.
Start Your Business in the RAK Free Zone With Shuraa
Shuraa will make the process for business setup in Ras Al Khaimah as simple as possible. Furthermore, if your business has specific needs, we can build custom-made business setup packages for you. Reach out to us to kickstart your business in Ras Al Khaimah.