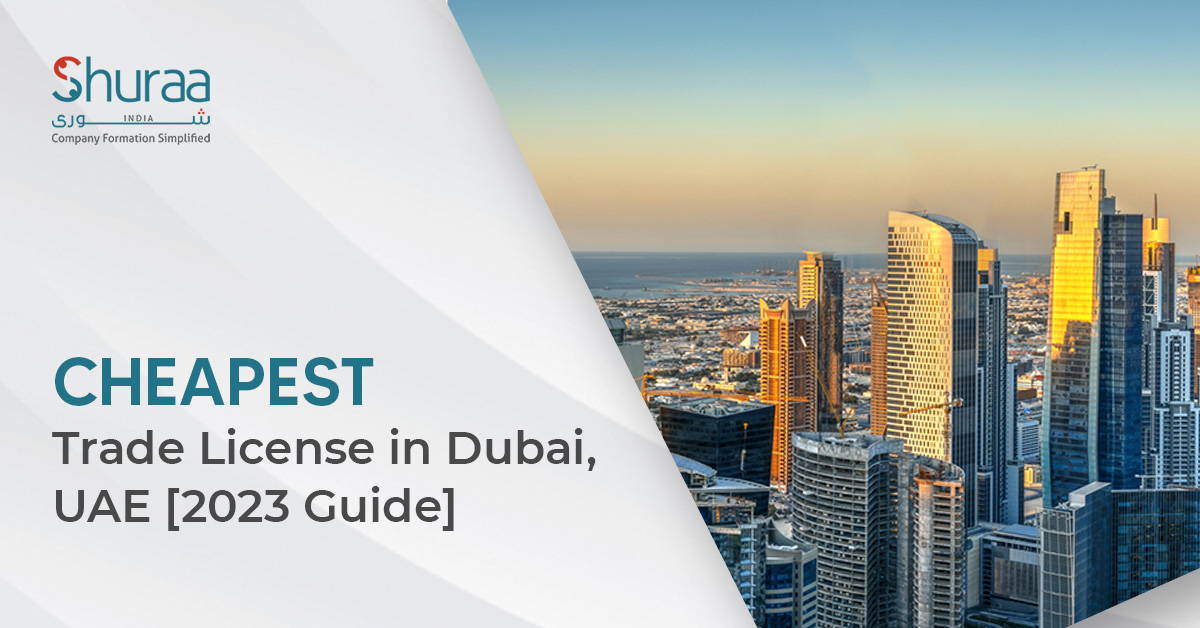 15 Nov

Cheapest Trade License in Dubai, UAE [2023 Guide]

The cheapest trade license in Dubai is one of the most sought-after for various reasons. Accessible business licensing, government legal assistance, business-friendly policies, and more are a few of them. People are now aware of the numerous benefits of choosing Dubai, United Arab Emirates, to begin a new business.

Dubai is a city known for its brilliant nightlife and glistening waters. But it's also a city known for its thriving economy and fantastic commercial prospects. For this reason, many entrepreneurs looking to launch a company in the United Arab Emirates may select Dubai as their center of operations. You will be surprised to know that more than 55,000 brand-new business licenses were issued in the last year alone.

Continue reading if you want to learn how to get a trade license in UAE. This blog takes you step-by-step through the types, needs, application process, documentation, and cost of a Dubai trade license.
What Is a Dubai Trade License?
Trade licenses in Dubai are legal documents specifying the types of operations a company may carry out in the UAE. Each trade license is issued by the Department of Economic Development (DED). Trading licenses are issued in Dubai for a wide range of activities. These include commercial activities such as importing and exporting goods.
Why Is a Trade License Required to Conduct Business in Dubai?
The following reasons explain why you require the cheapest trade license in Dubai to conduct a business:
A trade license is used to identify you and your company.

With a Dubai trade license, your company can assume responsibility for your commercial activity.

Dubai's trade licensing system employs formal procedures to safeguard the public's interests and ensure safety.

Having a trade license in Dubai allows you to take advantage of the government's beneficial policies.
What Can Benefits Be Obtained With a Trade License in Dubai?
The following are some benefits of holding a trading license in Dubai:
1. Tax Exemption
Numerous products covered by trade licenses are nearly tax-free, and because they can be produced at low cost, dealers can make significant profits.
2. Variety of Products
Except for a few unique products or delicate materials, almost all permitted commodities in Dubai are registered under trading licenses. Because selling multiple items is covered by a single license, obtaining a trade license will be beneficial for many years to come.
3. Simple Dependent Sponsorship
Because of the trading license, investors can easily apply for dependents' and workers' visas. These traders can easily sponsor their families and obtain a UAE visa.
What Types of Licenses are Available in Dubai?
Several licenses in Dubai are required depending on the type of business operation. Licenses are typically available in four varieties. Sometimes, authorities may decide what type of trade license your company requires. Each of Dubai's numerous jurisdictions has its requirements for licensing.
Any business engaged in trading or other commercial activity in Dubai requires a commercial license.

A company must have an industrial license if it engages in industrial activity.

A professional license is required in Dubai for businesses that provide services.

A Dubai tourist license is required for businesses that provide travel and tourism-related services.
Which Are the Cheapest Free Zones in Dubai?
The top five cheapest trade free zones in Dubai are listed below.
International Free Zone Authority (IFZA): IFZA provides a free Flexi desk for a year as well as a free permanent residence visa for life. In addition, the free zone provides a low-cost, visa-free company license in Dubai.

Dubai Meydan Free Zone: This economic area is one of the best places in Dubai to find cheap office space. The free zone also offers a No Objection Certificate, which allows you to open an office anywhere in Dubai.

RAK Free Zone: One of the affordable areas in the UAE is the RAK free zone. It was started with the intention of developing a professional business environment for various individuals and businesses.

Dubai CommerCity: It provides entrepreneurs with top-notch amenities and a wealth of commercial infrastructure. The international airport in Dubai is not far from the free zone. It acts as a center for international trading companies.

The Umm Al Quwain Free Trade Zone: For new business setups in UAE free zones, SMEs, and business groups looking to open offices, UAQ FTZ Free Trade Zones is an excellent option. The Umm al Quwain Free zone is anticipated to grow quickly in the upcoming years due to its cost-effective business setup and low operating costs.
How Do I Get a Trade License in Dubai?
To get your Dubai trade license, you must complete a few simple steps:
Select the right legal structure and trade name for your business. Make sure the trade name complies with the DED's requirements. 

Make a decision regarding each business activity that will be listed on the business license (a maximum of 10 per license).

Complete the application and submit it for initial approval.

Depending on the nature of your business operation, obtain the necessary external approvals.

Choose a location for your business, then have Ejari attest to a tenancy agreement.

Send a request to the DED with all the documents to obtain the final license.

Pay the required license fees, including the issuance fee, to get the license.
What Documentation Is Required to Obtain a Trade License in Dubai?
Trade licensing is strictly regulated in the UAE. As a result, you must present genuine documents to obtain a license. Here are a few examples:
Passport copies of stakeholders

Passport-size photographs

A copy of your entry visa
A few more documents will be required. For a complete list of paperwork, speak with the professionals at the Shuraa Business Setup.
What Is the Cost of a Trade License in Dubai?
Before starting your business, you must consider the trade license fees in Dubai and determine which license is most appropriate for your line of work. Procedures for industry licensing and any necessary government approvals must also be considered.
The cheapest trade license in Dubai varies depending on the circumstances. Typically, this license costs between 10,000 and 13,000 AED. 
Get Your Trade License with Shuraa
Speak with our consultants at Shuraa to learn about the customized cheapest trade license in Dubai. You can freely talk with one of our company setup experts to learn more about Dubai's most suitable and reasonably priced trade licenses.
We provide comprehensive business advice on a wide range of topics, such as licensing, banking, cost projection, investment planning, and the cost of renewing an LLC trading license in Dubai. So why continue to wait? Get in touch with Shuraa right away!