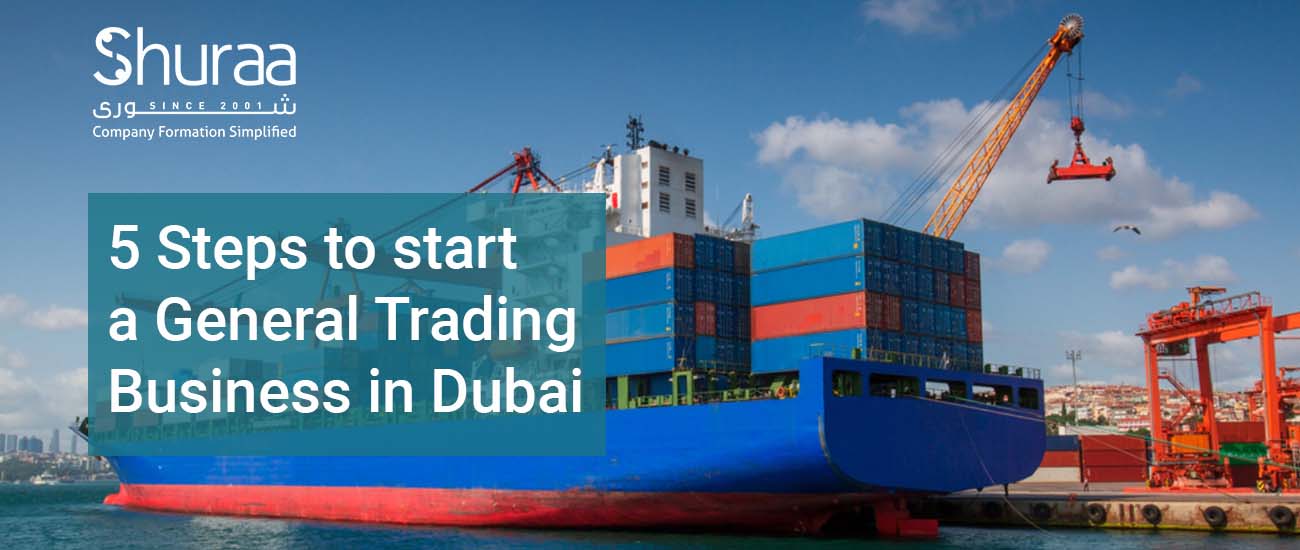 25 Feb

5 Steps to start a General Trading Business in Dubai
What Does General Trading Mean?
It is a well-known fact that the UAE has become the best location to start a general trading business in Dubai for foreign investors and budding entrepreneurs from all over the world. For the last two decades, the UAE government has been making sure that trade shows constant growth. As a result, it has pumped into the market a massive number of resources. 
The government has made sure that every sector keeps growing, thereby presenting attractive market options to foreign investors. As it is evident that Dubai is one of the major trading locations globally, setting up a business in Dubai will only prove beneficial for investors and budding entrepreneurs. 
For starting a general trading business in UAE, you need to follow an established process that has been made compulsory by the government. Furthermore, note that you ensure that the business has been established and implemented correctly and legally by following the due process. 
5 Steps to Start a General Trading Business in Dubai
The five major steps that you as an investor need to follow for starting a general trading business are as follows: 
Step 1 – Business Type
To start a Dubai general trading business, the first step is to decide the type of business you want to set up. Accordingly, the government has made it clear that before starting a general trading business in Dubai, you must have a proper plan to follow. The plan should consist of: 
Investment at the initial stage

 

Employee strength

 

Products and activities

 

Market analysis

 

Market competition

 
The above points give an idea about the formulation of the plan, with more emphasis being on activities, initial investment, and competition prevailing in the market. 
Step 2 – Nature of Activities
If your focus is on a few limited activities, you need to fill up the application for specific trade activities. However, if you plan to deal with several trading activities, the business setup will be classified as a general trading company in Dubai. Accordingly, the authorities will process an application for a general trading license. A general trading license will usually cost on the higher side as it allows you as an investor to carry out several trading activities. 
Step 3 – Choose a Location
While deciding to start a general trading business, you have to choose a location carefully for the business setup that will help flourish your trade. So, to decide on a location, you need to have complete information about the different business zones that are on offer in Dubai. Usually, the business is classified into two types in Dubai: 
Step 4 –
Obtain General Trading License
While setting up a general trading business in Dubai, you must make sure the business is run legally. You need to obtain a general trading license from the concerned authorities for that purpose. Moreover, this license will cover several business activities ranging from clothing, furniture, and electronic appliances, among others. 
Steps to get a general trading license are as follows:
Choose a trading name as per the established naming conventions.

 

Decide the type of business activities.

 

Application for submission.

 

External approvals may be required.

 

Keeping all the legal documents handy like MOA and AOA.

 

Decide on a suitable location for the business and get the contract approved by the concerned authorities.

 

Application form submission to DED.

 

Making the required payment as per the norms.

 
What Documents Do You Need to Submit to Start A General Trading Business in Dubai?
The documents you need to submit for starting a general trading business vary as per the location you decide to set up your business. In case you go for the free zones, you need to submit all the original documents to the commercial registry and commercial department. 
Submit a license application signed by all the stakeholders and legal representatives.

Passport-size photograph

of all the business partners.

Copies of passports of all the business partners.

Copies of visas of all the business partners.
What is The General Trading Business Cost in Dubai?
The general trading business cost in Dubai may be anywhere between 15,000 AED to 50,000 AED (approx.) A or even more. Usually, a general trading license is valid for one year and does not require you to rent an office space.
However, after one year, you must secure physical office space for your company and renew the license to conduct trade in and outside the UAE. 
List of
General Trading Companies in Dubai
Dubai has some well-established trading and commodity trading companies operating from some locations and carrying out many activities as has been determined legal with the issuance of a general trading license. Furthermore, the names of some well know companies are as follows: 
Israco Trading Company.

Phoenix Trading Company LLC.

Edmark Trading Co. L.L.C.

Al Haif Trading Company LLC.

Sport One Trading.

Faisal Jassim Trading Co. (L.L.C.).
Start a General Trading Company in Dubai With Shuraa
Now that you are fully acquainted with all the steps and necessary documentation involved in the process of starting a general trading business in Dubai, why wait anymore? Undoubtedly, setting up a general trading business will reap your good profit. Moreover, the government of Dubai is highly supportive and collaborative, making the business setup process relatively easy and straightforward. 
If you're still confused or unsure about anything related to establishing a general trading business, you can partner with a business setup consultancy to help you. The business consultants at Shuraa Business Setup hold the experience and expertise in business setup in Dubai.
We can walk you through every step, help you draft a proper business plan, and gather all the necessary documents. Furthermore, we can also get your initial approval and a general trading license at an affordable cost. All you need to do is give us a call, tell us your requirements, and we will take care of it all.