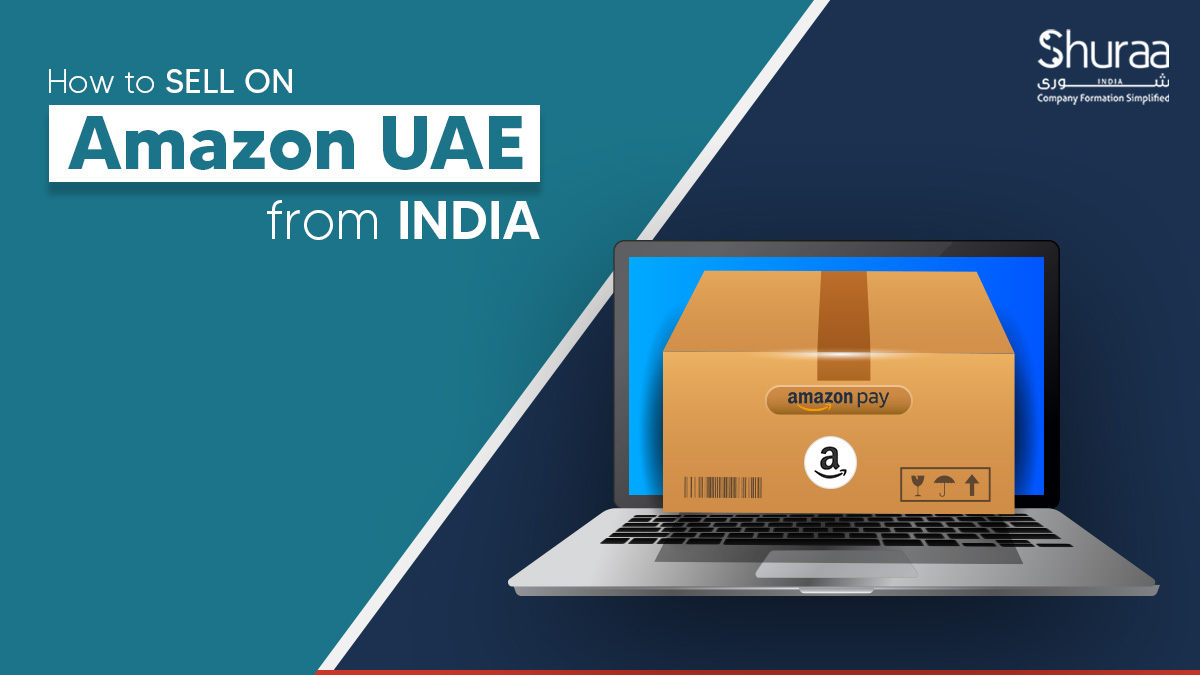 10 Apr

How to Sell on Amazon UAE from India?

Selling on Amazon UAE from India is popular for businesses expanding into the Middle East market. Moreover, Amazon UAE offers Indian sellers a vast potential customer base, given the increasing popularity of e-commerce in the region. In this blog, we will learn how to sell on Amazon UAE from India in detail. 

Amazon UAE's leading position in generating sales with around 28 million users offers Indian sellers a vast potential customer base. Moreover, Indian sellers can expand their business by catering to the demand for products that are not available in the UAE market. 

Moreover, Amazon Global Selling has made selling in foreign countries easier than ever. The programme assists sellers in navigating the complexities of international sales and reaching a global audience, including UAE customers. 
How can one Start Selling on Amazon Globally?
Selling on Amazon can be a lucrative opportunity for entrepreneurs looking to expand their business globally. Moreover, with Amazon's vast customer base and easy-to-use selling platform, reaching customers worldwide has never been easier. 
The following are the steps to start selling on Amazon globally: – 
Register for an Amazon seller account and complete the verification process.

 

Research and identify the target market and countries where you want to sell your products.

 

Create product listings and optimize them with relevant keywords and descriptions.

 

Choose a selling plan that suits your business needs and budget.

 

Set up a shipping method and fulfillment option, either by yourself or using Amazon's FBA service.

 

Promote your products through Amazon's advertising services and social media channels.

 

Monitor your sales performance, customer reviews, and feedback regularly to improve your listings and customer satisfaction.

 

Continuously evaluate and adjust your pricing strategy and inventory levels based on market demand and competition.

 
Steps to Sell on Amazon UAE
Selling on Amazon UAE can be a profitable venture for businesses looking to expand their reach in the region. Furthermore, with access to millions of potential customers, Amazon UAE offers a valuable platform for businesses to showcase and sell their products.  
The following are the steps to sell on Amazon UAE: – 
Understand the Market
Understanding the market and choosing a profitable niche such as textiles, handicrafts, or electronics is crucial to succeeding in selling on Amazon UAE. To improve sales tactics, offering cash on delivery as a payment option is crucial, as it is a preferred method of payment for UAE consumers.  
Obtain a License
To sell on Amazon UAE legally, obtaining a trade license is necessary. More importantly, before starting their firm, users must obtain a trading license. Ultimately, obtaining these licenses is essential and must be prioritized in the early stages of setting up the business. 
Select a Plan
To set up an Amazon seller account, one must choose a plan that suits their business needs. Furthermore, there are two options available, and they are individual plans, which offer a straightforward approach with no additional programs or selling tools, and professional plans, which provide numerous selling tools for businesses looking to sell in large quantities. 
Sign Up
Indian sellers can sign up as a seller on Amazon UAE by either connecting their existing Amazon India seller account or registering a new one on the website through Amazon Global Selling. Furthermore, this process requires important documents such as KYC documents, an Import-Export Code, an e-commerce license, and other relevant information.  
List Products
Indian sellers must list authorized items such as dry fruits, clothes, and electronic devices when registering to sell on Amazon UAE. Furthermore, if a product is not listed, a new listing must be created, and clear images and detailed descriptions must be provided to engage customers. 
Delivering the Products
To export products to the UAE, an Indian Amazon seller can choose to use FBA. With this option, Amazon dispatches and stores the items in their warehouses, handles packaging and delivery to the customer, and manages any return issues and complaints. Moreover, If the seller uses a third-party service, they must ship the product directly or through another business. 
Payment for the Products
After the buyer receives and pays for the products, Amazon transfers the funds to the seller's bank account. Moreover, if the buyer uses an online payment option, the money goes straight to the seller, but if they choose Cash on Delivery, Amazon transfers the money to the seller's bank account. 
Maintain a Record 
Indian sellers can track the entire process, from shipping to delivery, using the website or Seller app. Moreover, the system is transparent and straightforward, making it easy for them to export to Dubai and start a small business with Amazon UAE's support. Overall, Amazon UAE's support and tracking system makes it a viable option for Indian sellers looking to export to Dubai and expand their business. 
Advantages of Selling in the UAE
To describe your business to the world, the Middle East is a wonderful place to start. Furthermore, it is a developing market with easy listing tools, secure financial transactions, and promotional tools. With many buyers in the UAE, merchants have many options available.  
The following are the advantages of selling in the UAE: – 
The UAE provides access to a developing market with many buyers.

 

The country offers simple listing tools and secure financial transactions for merchants.

 

The promotional tools available in the UAE help businesses highlight their products to potential customers.

 

The UAE's strategic location makes it an excellent hub for businesses looking to expand their reach into neighboring markets.

 

The UAE's favorable tax environment and minimal government intervention make it attractive for entrepreneurs to start a business.

 
What is the Cost of Selling on Amazon from India?
The overall cost of selling on Amazon UAE from India depends on various factors such as the chosen selling plan, product type, and fulfillment facility. Amazon Global Selling claims that Amazon UAE is the leading e-commerce shopping destination in the country, with a $34 billion trade market from India.  
Indian sellers can benefit from the high popularity of the Amazon UAE marketplace, which receives around 28 billion monthly visits from customers worldwide. Moreover, Dubai's reputation as an international trade center and the numerous events it hosts provide more opportunities for exporters, especially during Ramadan. 
Connect with Shuraa Business Experts
In conclusion, selling on Amazon UAE from India can be a lucrative opportunity for Indian sellers looking to expand their business globally. Furthermore, the benefits of selling on Amazon UAE include a vast customer base, making it an attractive platform for Indian exporters.  
Sellers can effectively manage the three main components of the Amazon UAE selling plan as subscription fees, referral fees, and shipping costs to maximize their profits. Moreover, the Dubai market provides a variety of popular product categories on Amazon UAE products. Overall, the ease of access, transparency, and cost-effectiveness of the selling plan make it an attractive choice for Indian exporters looking to enter the UAE market.