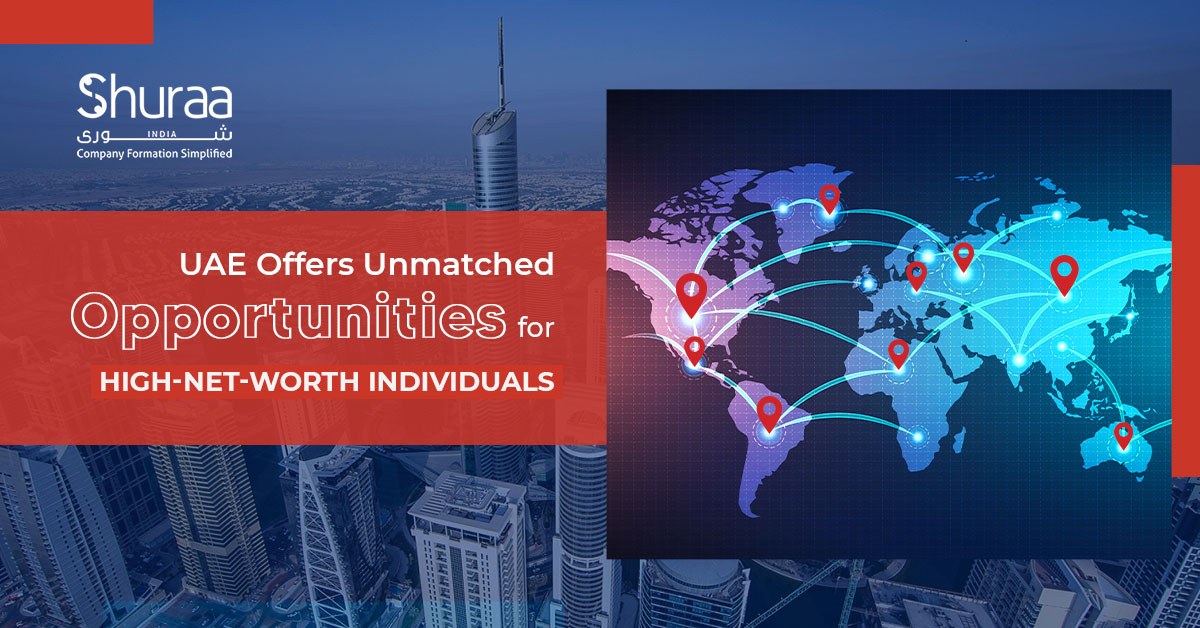 26 Oct

UAE Offers Unmatched Opportunities for High-Net-Worth Individuals

Sharjah freezone The UAE undoubtedly offers unparalleled investment opportunities. In the last few years, the UAE, especially its star city, Dubai, has seen a steep increase in the number of high-net-worth individuals. And the same has directly impacted the city's investor count.

In fact, as per recent data by New World Wealth, Dubai is UAE's most prosperous city. Furthermore, UAE is the wealthiest nation in the Middle East and North Africa (MENA) region. Additionally, Dubai ranks 23rd on the ECA's cost-of-living index. Furthermore, the financial wealth of the UAE is anticipated to grow at a 6.7% annual compound rate to reach $1 trillion in 2026.

Besides UAE's exceptional opportunities, the high rates of inflation and unfavourable economic conditions of the developed countries contribute to the high influx of high-net-worth individuals (HNWI) in the UAE. 

It is predicted that the UAE will welcome 4,000 high-net-worth individuals. This is a remarkable increase from 1,300 millionaires in 2019, a 208% jump confirming that the UAE is succeeding in luring private wealth, money, and skill. But how? What are the underlying reasons behind this steep increase in the flow of high-net-worth individuals and investments in Dubai? Let's find out. 

This blog will walk you through why UAE is emerging as a hotspot for high-net-worth individuals and discuss the top investment zones. 
What Makes UAE a Hotspot for High-Net-Worth Individuals?
1. Projects of the 50 
The "Projects of the 50" is a series of 50 new developmental and economic projects announced by the UAE government, making its jubilee since its founding in 1971. It outlines the vision of the UAE for the next 50 years. The projects will be in line to make UAE – 
Global capital for investment and economic creativity 

Incubator for entrepreneurial ventures and emerging projects 

Advanced laboratory for new economic opportunities 
It also includes investing in technology and developing new visas to draw and retain talented employees and residents. According to Minister of Industry and Advanced Technology Sultan al-Jaber, among the projects, the UAE and the Emirates Development Bank would spend 5 billion dirhams on industrial technology and technology-intensive industries.
So far, the new scheme in initiatives includes the following: 
Introduction of Green Visa and expanding Global Visa eligibility

Economic partnership agreements with global markets increase the current annual trade volume with these markets by AED40 bln. The goal is to double the national economy from AED1.4 trillion to AED3 trillion in the next 10 years.

Introduction of data law to empower control over the use of personal data. 
2. High Capital Inflows
The UAE has consistently been working towards recovering post the covid-19 pandemic. As per reports from the Institute of International Finance (IIF), it is one of the attractive emerging destinations for foreign direct investments (FDI). The FDIs grew by 4% from 2019, jumping to $20.7 billion in 2021. Furthermore, the country has entered into nearly 106 agreements with its trading partners for protecting and encouraging investments. The reason behind the high capital inflows is the UAE's conducive business environment, cutting-edge infrastructure, friendly policies, and stability. 
3. Specialised Free Zones 
In the UAE, there are over 40 distinct free zones, each of which has close ties to local and global trade organisations. It has free trade agreements with the European Free Trade Association, Singapore, and the European Union. It plans to sign eight more in the near future. Furthermore, it is a member of the World Trade Organisation (WTO) and the Greater Arab Free Trade Area (GAFTA). 
As a business-friendly environment with several opportunities for HNWIs to immigrate and invest, the UAE provides a more alluring atmosphere for startups, company owners, and independent workers. Investors have the freedom to participate in more than 2,000 licensed commercial operations with full ownership of the firm thanks to the availability of these economic free zones.
4. Supportive Legal Landscape 
The UAE's regulatory framework has been continuously improved to encourage trade and investment. But in 2021, the nation took what may have been its most significant move yet by allowing 100 percent foreign ownership of businesses across a wide range of industries, eliminating the necessity for an investor to find a local partner. 
The visa and residence systems are also constantly being changed, per "Projects of the 50," to recruit qualified workers in essential industries, notably in the health, scientific research, technology, and cultural sectors.
What Are the Top Free Zones For Investments in the UAE?
1. International Freezone Authority (IFZA)
Established in the emirate of Dubai, IFZA is touted as one of the most cost-effective and fastest-growing free zones. As a leading business hub, it has collaborated with Dubai Silicon Oasis Authority (DSO), offering opportunities to entrepreneurs and startups to collaborate with tech companies and experts, boosting the flexibility of doing business. 
With a license registration and issuance period of as short as 48 hours, LLC licenses, competitive prices, a refund policy, and more, inventing in IFZA free zone is exceptionally fruitful. 
2. Ras Al Khaimah Economic Zone (RAKEZ)
A powerhouse of business and industries, Ras Al Khaimah Economic Zone (RAKEZ) gives both enterprises in free zones and those outside of them flexible alternatives. Their global network thrives in over 50 industries, including startups, SMEs, and industrialists.
With permits for 4,000+ business activities, RAKEZ offers simplified and fast-track business setups, customizable offices, competitive business packages, and more to help you boost your business and grow exponentially. 
3. Sharjah Freezone
Sharjah Freezone opens doors to over 2 billion consumers in the Middle Eastern and North African (MENA) region. Furthermore, it is touted as one of the best free zones in the UAE for investment. 
Housing 6 free zones (Hamriyah Free Zone, SAIF Zone, SHAMS, SRTI Park, Sharjah Publishing City, and Sharjah Healthcare City), Sharjah Freezone offers a host of enticing benefits to investors and entrepreneurs. 
4. Meydan Free Zone
The Meydan Free Zone was established in February 2009. It's proximity to Mohammed Bin Rashid Al Maktoum City and Dubai Logistics Corridor makes it a prestigious addresses in the UAE. Offering a centrally located economic community to all the businesses, it is a strategically positioned business hub that offers all kinds of licensing, including heavy industry. 
What makes this Freezone special is its guaranteed 50-year tax holiday on taxes (corporate and personal). With 1500+ license activities and recognition from the Ministry of Foreign Affairs, investing here will surely not disappoint you.
Make The Most of the UAE With Shuraa 
If you are a high-net-worth individual looking for opportunities in the UAE, Shuraa experts can help you. Our professionals are well-versed in all aspects of the UAE. Be it policies, laws, business setup procedures, visa requirements, or investment opportunities.
We can help you make an informed decision with company setup or investments, and supporting requirements. Furthermore, our experts will personally look after all the documentation and other needs, ensuring no mishaps. We also offer tailor-made business solutions to address your unique needs. All you need to do is give us a call!