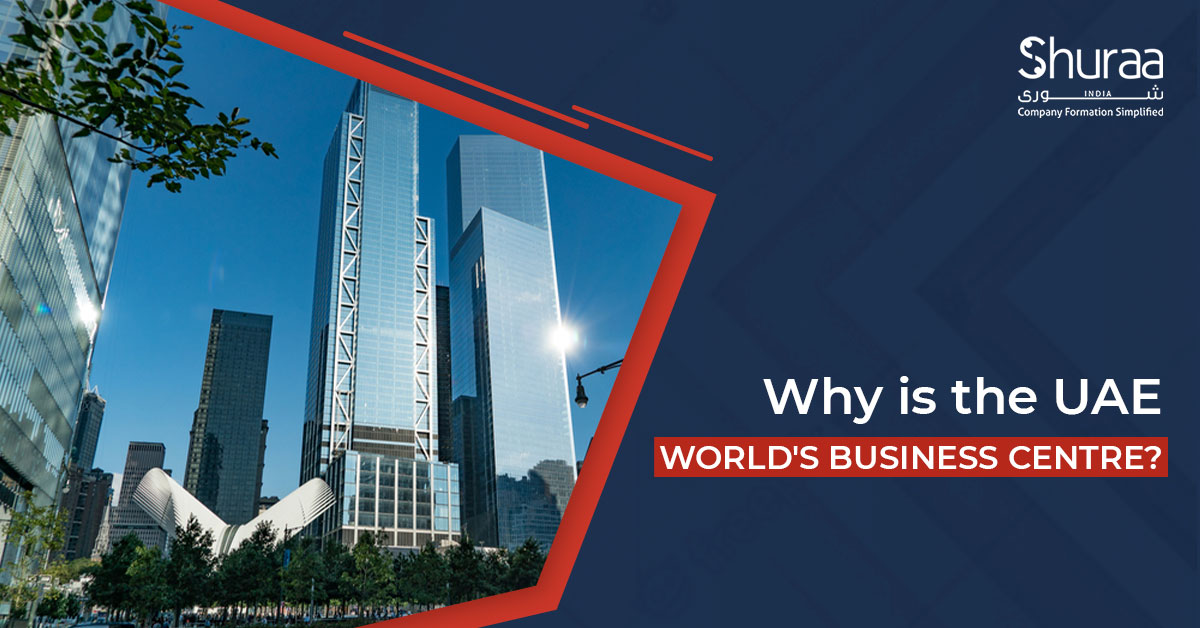 11 Nov

Why Is the UAE the World's Business Center?

The United Arab Emirates federation consists of seven emirates: Abu Dhabi, Dubai, Sharjah, Ras al-Khaimah, Ajman, Umm al-Quwain, and Fujairah. Because of its first-rate infrastructure, specialized services, and expert knowledge, the UAE has an advantage over other countries.  Consequently, the UAE's business climate is extremely conducive.

The nation was ranked 16th in the World Bank's Ease of Doing Business Report 2020. You will be surprised to know that only two emirates—Dubai (3,488,745) and Abu Dhabi (1,540,000) — host almost 70% of the nation's residents. For clever grads, Dubai offers a wide variety of employment prospects. This has aided the establishment of business center Dubai as a global leader in innovation, helping UAE become the world's business center. But that's not all.

This blog will walk you through the factors which make the UAE the world's business center. Let's get started!
What Are the Factors that Make UAE the World's Business Center?
The UAE boasts a stable and well-regulated commercial environment and is well-known throughout the world for several factors. The following are some of the top reasons that make the UAE a world business center – 
1. World-Class Infrastructure and Service Sector
Because of its wise policy of aggressively investing in transportation, telecommunications, electricity, and industrial infrastructure, the UAE has one of the best infrastructure facilities in the world. This policy has also helped the country's long-term prosperity and appeal to foreign investors. 
Leading regional and international freight forwarders, shipping companies, banks, the top international exhibition and conference facilities, hospitals, schools, and many more are examples of the sophisticated service sector that supports its world-class infrastructure. In fact, you can operate in well-designed and equipped business centers for rent in Dubai and other emirates if you don't want to invest in a permanent office space.
2. International Trade Network 
The UAE has a vast international trade network that spans 179 countries, providing investors with a diverse range of potential global marketing outlets for a diverse portfolio of goods and services. The UAE is also a part of the world's third-largest export and re-export hub, after Singapore and Hong Kong.
3. Tax
Haven 
The United Arab Emirates, which has zero or very low (personal, commercial, or professional) taxes, is one of the top 10 tax havens in the world. Establishing a business in the UAE is a highly sought-after opportunity because the government does not levy discriminatory taxes on foreign and domestic investors. 
One of the UAE's most appealing features for investors is that existing businesses are not subject to unwelcome taxes, and startups are not subject to rising company costs and long-term commitments. As a result, investors may expect huge returns on their investments.
4. Government Assistance and Effective Business Policy 
The UAE has established export diversification policies or multilateral trade laws that allow citizens to engage in free trade across all firm types to strengthen its position as a developing economy that promotes international commerce.
Businesses require government institutions that promote commercial activity and expedite business operations. In other words, no economic activity will thrive in a state that lacks a business-friendly government. The UAE government encourages and facilitates foreign investment by offering a variety of incentives to those who want to set up shop there.
5. Strategic Location
One of the main reasons why the business center Dubai is famous is because of its strategic location. The country is strategically located near a global crude oil transit point. It is incredibly well-connected to emerging markets, making it a well-positioned trade center within easy reach of major international financial capitals.
6. Keeping Up With the Time
In just over three decades, the UAE has transformed from a fishing and agricultural nation to one with world-class infrastructure that has encouraged incredible enterprise achievement. The UAE has become a model of modernization while remaining faithful to its past and cultural traditions, with equal representation of women in business and government, a lack of gender discrimination, job stability, cutting-edge healthcare, improved education, and an open legal system.
What Are
Some of the Top Cities T
hat Make UAE the World Business Center?
The United Arab Emirates has become the focus of many business activities since the turn of the century. Following are some of the cities which make the UAE the world business center:
1. Dubai
The most significant city in the UAE to make it the world business center is Dubai. Throughout the years, Dubai has evolved into a global center for technology and culture. It is a business person's paradise with its tall structures and intriguing vistas.
Silicon Oasis is one of the most well-known areas in Dubai for conducting business. The Dubai Silicon Oasis is expected to expand due to its business attractions, which include the Dubai Digital Park, the DTEC (Dubai Technology Entrepreneurs' Campus), and a fast-track business setup program in Dubai.
2. Abu Dhabi
Abu Dhabi is the United Arab Emirates' political and economic center. This region contains an estimated 10% of the world's oil reserves, and the supply of black gold is expected to last for a long time. The Abu Dhabi Investment Authority, the world's fifth-largest sovereign wealth fund, was established in response to the vast sums of money that have poured into Abu Dhabi since the discovery of oil.
3. Ras Al Khaimah
Ras Al Khaimah Free Zone is the city's primary free zone. More than 12,000 businesses representing more than 100 nations and more than 50 industry sectors have invested in it.
Ras Al Khaimah (RAK) has steadily grown and solidified its reputation as a desirable commercial center with a thriving and diverse economy. The financial incentives and low-cost business setup have attracted a wide range of commercial activity.
What Is the Procedure for Opening a Business in the UAE?
Now that you know what makes business center Dubai famous worldwide, the thought of establishing a business here is only natural. You can get an idea of how to launch your new company in the UAE by following the procedures below:
Decide the business activities and legal structure

Reserve a trading name for your company

Finalize the ideal business location

Apply for a business license

Get your external approvals
The following documents must be presented in order to open a business in UAE:
Passport size photographs 

Photocopies of passports of all stakeholders 

Entry visa or stamp page copies
A reasonable estimate is between AED 23,000 and AED 35,000 for the UAE mainland. Each free zone has a significantly different minimum share capital requirement that can range from AED 1,000 to AED 1,000,000. 
You can contact Shuraa business incorporation specialists, and we'll keep an eye on your funds as you establish an LLC in the UAE.
Make the Most of the World's Business Center With Shuraa
The options for launching a business in the UAE are essentially endless. It makes perfect sense if all of these attractive benefits have piqued your interest in establishing a business in the UAE. Business center Dubai is becoming one of the best business hubs for investors and attracts them to do business in the UAE.
You can start a business in the UAE at a fair price by contacting the business advisers at the Shuraa. We will also handle any necessary documentation, pre-approvals, and other requirements during the setup process.