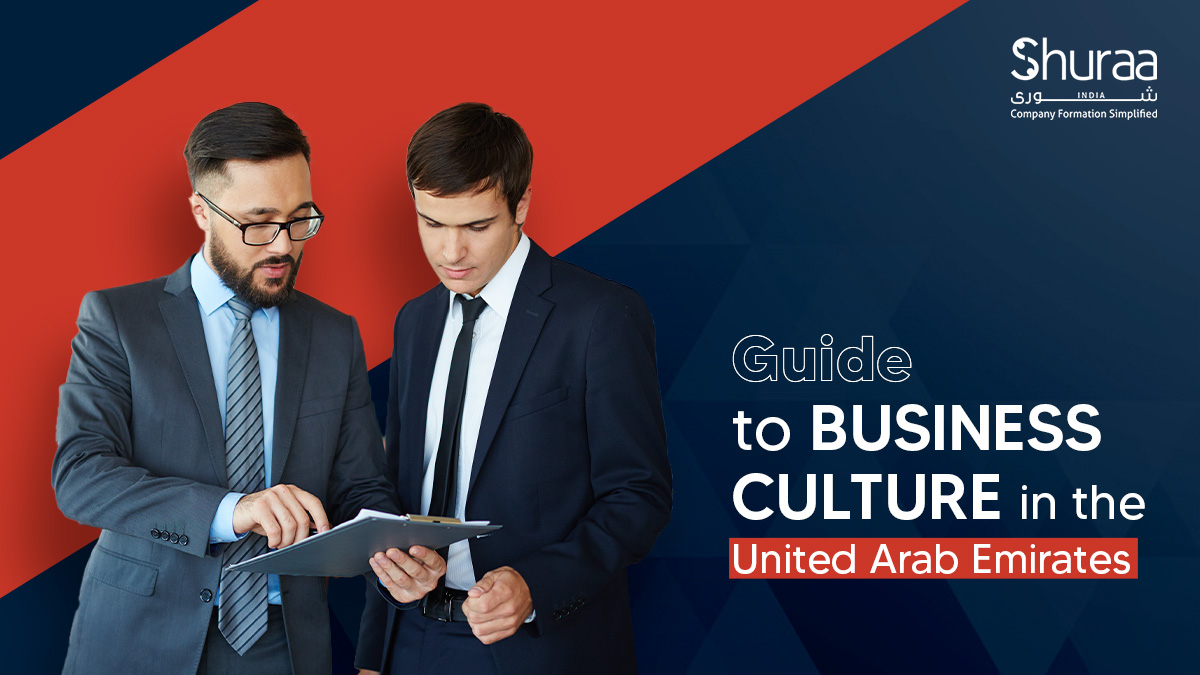 12 Dec

Guide to business culture in the United Arab Emirates

The United Arab Emirates is a prime location for expanding your business, it has a diverse and multicultural society that is modern in comparison to many other Middle Eastern nations. Some visitors may quickly feel at home without realising the obvious cultural differences because the area has cultural centres and restaurants serving international cuisine.  

The business culture in UAE is distinct from that of your home country. The most crucial thing to keep in mind is that respect is at the heart of UAE business etiquette.  

In addition, attitudes toward business are evolving. For instance, concern over corporate social responsibility is growing. The government is also taking steps to support women in the workforce and deter corporate crime.  
Business Meetings in UAE 
Business people in the UAE frequently prefer in-person meetings over potentially impersonal phone calls or emails. This is especially true when establishing a trade agreement with a company in the UAE as an exporter.  
Make sure to contact the business decision-maker when requesting a business meeting. You two might be introduced by a mutual contact.  
 Other opportunities to establish significant connections in the UAE include:  
Getting together at an event

 

A networking reception meeting 

 

Utilizing a Service for Overseas Market Introduction 

 
Corporate Social Responsibility  
In the United Arab Emirates, corporate social responsibility (CSR) is becoming an important component of business culture in UAE. The government passed a CSR law in February 2018 that required businesses to disclose all CSR activities and provided financial incentives for CSR projects. Similar financial benefits and exemptions are given to businesses that exhibit exceptional social responsibility. In fact, CSR is now required for the majority of UAE businesses.  
Many businesses use a variety of tactics to satisfy their CSR obligations. While some adopt environmentally friendly production practises, others make investments in development projects. Some even advocate rewarding community service with paid time off. Despite being in its early stages, CSR is expected to have a significant impact on business in the UAE in the years to come.  
Language 
The most common language is Arabic, which is followed by English, French, Russian, Hindi, and more. Most of the official paperwork, forms, laws, and orders are in Arabic. Consequently, having a working knowledge of the language is helpful.  
In the entire nation, English is widely spoken. Arabic is frequently preferred within some public sector organisations, even though written correspondence is frequently in English. It is preferable to have your business card printed with Arabic on one side.  
UAE's female Workforce
In the UAE, women are participating more in business. This is due to the fact that many Emirati women are becoming more educated and preferring to work rather than getting married young. 
71% graduate of Emirati university in 2018 were Womens. Many foreign women also relocate to the UAE in order to find employment or launch a business there. The UAE government encourages women to work part-time and flexibly, and it also offers paid maternity leave. 
The government promotes workplace equality as well. An equal pay law was passed in 2018 to start reducing the gender pay gap. The labour laws of the UAE also include provisions for women's protection in Articles 24–27. Women are prohibited from working between 10 pm and 7 am under these rules (with exceptions for technical and health services).  
Social Provisions Provided by UAE Business
The UAE's business culture is largely familial, so businesses take good care of their employees. As a result, many businesses offer a variety of social services.  
According to the law, an employee must contribute a total of 26% of their salary toward a pension fund. Like other benefits, social security is included in the package. Employees pay 5% and employers contribute 12.5% (or 15% in Abu Dhabi). However, foreign nationals are exempt from social security contributions.  
Additionally, employers are required to offer health insurance to all workers. These benefits are frequently extended to the families of the employees as well.  
What are some great business opportunities in the UAE these days? 
Dubai's government has become the first in the world to be entirely digital. Business opportunities in Dubai are thus accessible to both foreign investors and UAE citizens. In fact, Dubai's economy is greatly boosted by foreign businesses, which attracts foreign investors.  
Here are the top 7 business opportunities in the UAE for 2023 if you're looking to start a business in Dubai.  
Tech Solutions 

 

General Trading  

 
Which is the best business consultant company in the UAE? 
Since 2001, Shuraa Business Setup has been providing dependable services to local and immigrant business owners. We are among the top business setup services in the nation thanks to our open dealings, trustworthy services, and reputable performance. We take immense pride in having spent more than 20 years assisting people with big dreams. Since our inception, we have been moulding people into entrepreneurs, as our caption states.  
Our Tested & Proven method relieves the stress of starting your journey while saving you time and money.   
Who can help in a Business Setup in Dubai, UAE? 
With the help of the Shuraa business setup, starting a business is quick and easy. Shuraa Business Setup assists you in forming a company on Mainland or Freezone. We have a record of accomplishment of offering qualified advice regarding company formation in Dubai and the UAE.   
We guarantee first-rate assistance with business setup in Dubai. Contact Shuraa right away to start your path to wealth. We provide comprehensive and personalized business setup services for everything a new business in the UAE needs.  
Who provides the best UAE free zone company formation services? 
Shuraa assists with company formation in more than 50 UAE free zones. When deciding which free zone is best suited to your unique business needs, there is undoubtedly a lot of information to review. Including location, cost, business type, options for flexible workspace or office space, auditing, and bookkeeping requirements, share capital requirements, and many more.  
The Shuraa team can guide you through the process step-by-step. Starting from pointing you in the right direction, saving you money to reducing your stress throughout the entire process.
Step-by-step instructions that are very transparent will be given as you go through the setup process:

 

We take care of all the leg work so that you don't have to worry about a thing. We also make sure you are informed every step of the way. 

 

Shuraa is working hard to make sure your UAE free zone company setup is a complete success.