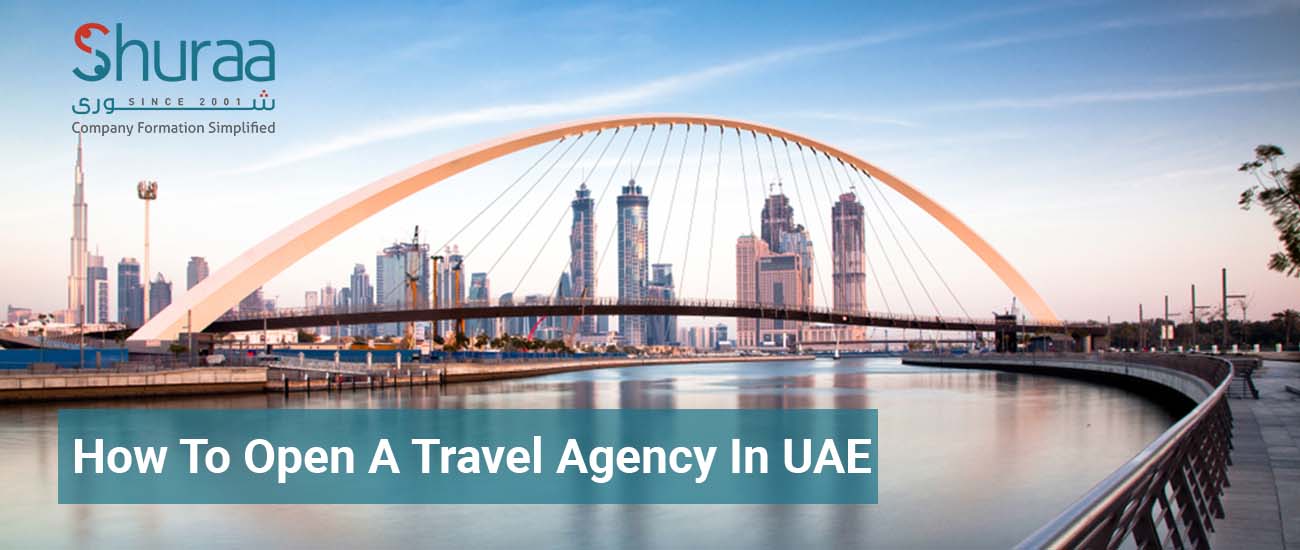 25 Feb

How to Open a Travel Agency in Dubai?

The UAE is one of the world's most tempting tourist destinations. It has drawn millions of tourists yearly, rising to incredible heights. Because the number of tourists is on track to meet the government's Tourism Vision 2020 objective of 20 million visits to Dubai alone, now is an excellent moment to establish a travel agency business in the UAE.

Tourism is expected to be valued at AED 116 billion by 2027, accounting for 5.4% of UAE GDP and directly or indirectly supporting over 750,000 employees.

If you need help creating a travel agency in Dubai while adhering to the laws and are wondering how much the travel agency license cost in Dubai? in that case, help from our professionals at Shuraa Business Setup can spare you from the high-budget extravagance problems of setting up a travel agency firm down the line.
How to start a travel agency in Dubai, UAE?
Following are the steps you have to follow to open a travel agency in Dubai:
1. Establish your travel business activity:
The first stage is to select what type of business you want to run; will you be a travel agency, an inbound tour operator, or an outbound tour operator? There are several activities to pick from throughout all of the different marketplaces.
2. Choose a company name:
Before choosing a name, you should familiarise yourself with the criteria; phrases like 'global,' 'international,' 'East,' or 'West' are permissible but may incur additional fees, and numerous limits apply in Mainland.
For example, inflammatory terms, such as God's name, are strictly prohibited in English and Arabic.
3. Apply for a business license:
The DED issues trade or business licenses (commercial, professional, industrial, and tourist) in Dubai. Regardless of industry, all businesses must acquire a trade license.
Certain industries need supplementary approvals from appropriate issuing bodies, such as the Department of Tourism and Commerce Marketing (DTCM) in the case of tourism.
4. Apply for your tourism license:
Your next step will be to apply to the DTCM for one of the three extra licenses available: outbound operator, inbound operator, or travel agent.
To open a travel agency in Dubai, you'll need an overview of your business strategy, a clean criminal record certificate, and a 'No Objection Certificate' from the Civil Aviation Authority (if required). Furthermore, it must be renewed yearly, 30 days before the expiration date.
5. Open a corporate bank account:
With a trade license, a bank will acknowledge your firm; moreover, choose your bank prudently; a poor pick may become a negative decision for your travel agency business.
Why Start a Travel Agency in Dubai?
Dubai, known as the "City of Gold," offers a lucrative environment for opening a travel agency. Here are some compelling reasons supported by facts and statistics that make Dubai an ideal destination for venturing into the travel industry:
1. Booming Tourism Industry:
Dubai has witnessed exponential growth in its tourism sector. In 2019, the city welcomed a record-breaking 16.7 million international overnight visitors, marking a 5.1% increase compared to the previous year.
2. Strategic Geographical Location:
Dubai is a gateway for international travelers at the crossroads of Europe, Asia, and Africa. Its central location allows easy access to a wide range of destinations, making it an ideal base for a travel agency catering to diverse travel preferences.
3. World-Class Infrastructure:
Dubai boasts modern and state-of-the-art infrastructure, including world-renowned airports, luxury hotels, and iconic landmarks. The city's commitment to continuously improving its infrastructure ensures seamless travel experiences for tourists and provides ample opportunities for travel agencies to offer premium services.
4. Vibrant Business Environment:
Dubai's thriving business landscape attracts a considerable number of business travelers. It is a hub for international conferences, exhibitions, and trade events. As a travel agency, catering to this segment can prove highly lucrative and provide a steady stream of clients.
5. Diverse Attractions and Experiences:
From stunning architectural marvels such as the Burj Khalifa to extravagant shopping malls and breathtaking desert landscapes, Dubai offers many attractions and experiences. The city's commitment to innovation and creating unique visitor experiences makes it an appealing destination for travellers seeking luxury, adventure, and cultural immersion.
6. Government Support and Initiatives:
The Dubai government actively supports the tourism industry through various initiatives and policies. These include simplified visa procedures, favourable business regulations, and incentives for entrepreneurs. Such support creates a conducive environment for travel agencies to establish and flourish in the city.
7. Growing Hospitality Sector:
The rapid expansion of Dubai's hospitality sector further complements the growth of travel agencies. The city has a diverse range of hotels, resorts, and serviced apartments to cater to tourists' varied needs and budgets, providing ample opportunities for travel agencies to collaborate and offer attractive packages.
8. Event Capital of the Middle East:
Dubai is renowned for hosting major events, including sports tournaments, music festivals, and cultural celebrations. These events draw many visitors worldwide, presenting a great opportunity for travel agencies to cater to the influx of tourists during such periods.
By leveraging these factors, opening a travel agency in Dubai can position you to tap into a thriving market, cater to a diverse clientele, and benefit from the city's continuous growth in the tourism industry.
Requirements to Start a Travel Agency in Dubai
If you're planning to start a travel agency following are the travel agency license requirements in Dubai:
A summary of your business plan
The Civil Aviation Authority's "No Objection Certificate" (NOC)
DTCM Approval.
And all other necessary documents requested by the pertinent authorities.
Travel Agency License Cost in Dubai
Travel Agency License cost in Dubai is approximately 26,500 AED. This estimate excludes various components such as the approval fee, approximately 10,000 AED, and an additional 5% of the annual office rent. In addition, there are expenses associated with drafting, translating, and notarizing the Local Service Agent Agreement, which adds approximately 1,500 AED to the total cost.
Overall, Travel Agency License cost in Dubai is approximately 26,500 AED. Obtaining accurate and up-to-date information from the relevant authorities is recommended to confirm travel agency license costs in Sharjah and the requirements for obtaining a travel agency license in Dubai.
Get Your travel license in Dubai With Suraa India Br.
In conclusion, when setting up a company, especially in a specialized industry like travel agencies, it is crucial to have the right expertise and guidance. A company formation expert can save you valuable time and ensure you have all the necessary paperwork.
Establishing a successful travel agency business involves several important steps, which can be complex and full of hidden traps. By entrusting this task to professionals like Shuraa business setup, you can avoid costly mistakes and focus on building your business.
For more information and assistance with company formation in the UAE mainland or free zones, contact Shuraa Business Setup. Don't risk getting it wrong – invest in the expertise that pays off in the long run.