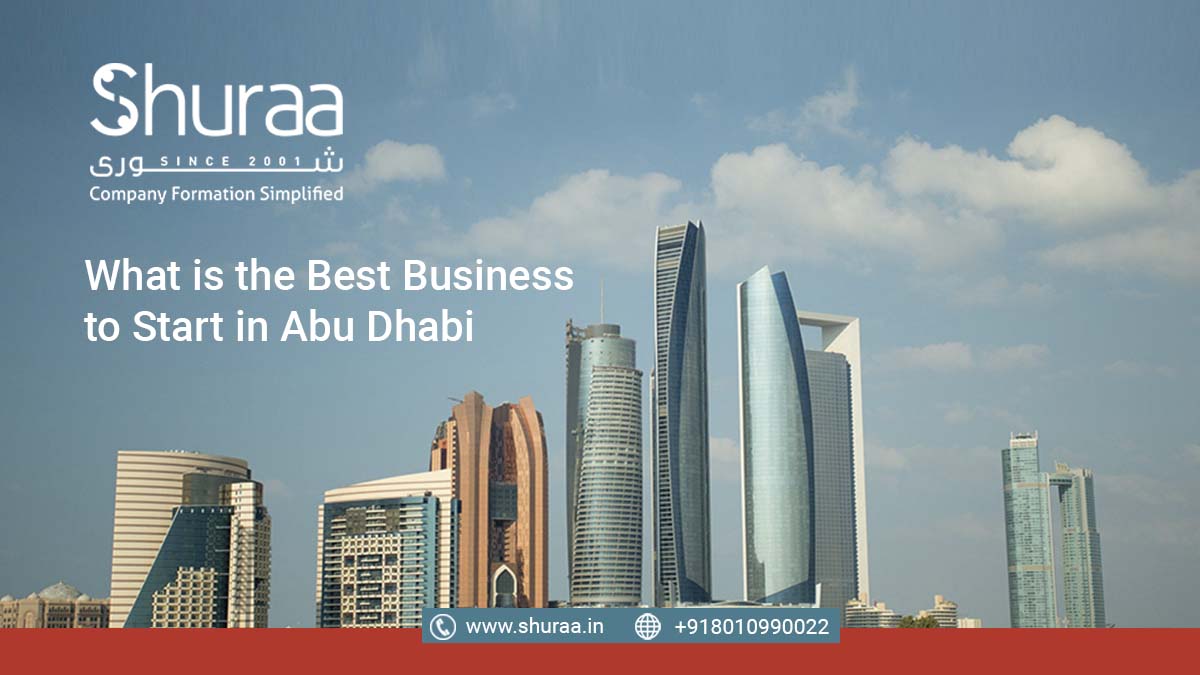 21 Jun

Business setup in Abu Dhabi

Are you looking for an affordable business setup in Abu Dhabi? We've got the top 11 successful small business ideas that will help you get started with your entrepreneurial dream right away!

Renowned for its burgeoning economy and friendly policies, the UAE has turned into a hub of businesses directed by foreign investors. The UAE also ranks 16 on the World Bank's Ease of Doing Business Report from 2020.

With its state-of-the-art infrastructure, supportive workforce, growth-focused environment, and business-friendly laws, many entrepreneurs are seen investing in a business setup in Abu Dhabi. After all, the UAE is one of the best places to live and conduct seamless trade operations globally.

With consistent efforts and a supportive local service agent, you can turn your business idea into a profitable reality. Once you have your concept finalized, all it takes is a week and six simple procedures to establish your company in Abu Dhabi.

Since the UAE government is putting its best efforts into inviting more foreign investments, they are working hard to provide more facilities and business-friendly opportunities across different regions. However, first, you must find a great business idea to capitalize on the opportunities in the UAE. 
Top 11 Successful Business Ideas in Abu Dhabi
1. eCommerce 
eCommerce is one of the best business ideas in Abu Dhabi. Depending upon your interests and target customers, you can offer plenty of solutions through online marketplaces and your website to customers. Since customers in the UAE have started purchasing online for the littlest of their needs, you can quickly enter the market with a small investment and enticing products.
2. Construction
If there's one city that stands out for its architectural marvels worldwide, it's Abu Dhabi. Due to its ever-expanding skylines and industrial projects, the construction sector is consistently growing. A construction business can be an excellent growth opportunity if you have expertise in the field.
3. Travel and Tourism
Being the top tourism destination, Abu Dhabi presents an unprecedented business opportunity in the UAE. Since the government is also taking initiatives to increase tourist footfall, you can easily capitalize on the opportunity and start your backpacking or luxury tourism business. 
4. Restaurant and Cafe
The population of Abu Dhabi earns significantly well and has a greater purchasing power than several other cities. This makes it a great place to start a restaurant or cafe business. With a bit of investment and a passion for serving different types of cuisine, you can easily make space in the heart of the people of Abu Dhabi.
5. Interior Design Consultant
If you're looking to establish a creative business in Abu Dhabi, an interior design consultancy can be a good option for you. Since several people and businesses need to redesign their interior spaces, you can offer them your services by understanding their requirements.
6. Real Estate Agency
With the number of foreign investments increasing in Abu Dhabi on a daily basis, real estate consultancy makes for an excellent business option. Since people are looking forward to renting and purchasing properties, you can leverage your expertise and offer them reliable services that meet their requirements.
7. Handyman
Handyman services are required frequently, both at the residential and industrial levels in Abu Dhabi. You can start a handyman business in Abu Dhabi by researching well on different requirements of people such as maintenance, repair, plumbing, etc., and partnering with individuals ready to do the groundwork for you.
8. Cleaning Services
Cleaning services also present a good opportunity for business setup in UAE. It's easy, and you can target your audience to be either residential or commercial. Depending upon this, you can hire skilled professionals for the job and invest in the right equipment.
9. Salon
If you are an expert in beauty and therapeutic services, you can open a salon and spa business in Abu Dhabi. They have a low business in Dubai and can be scaled as per the growing requirements.
10. Gift Shop
If you do not have any unique products to sell, a gift shop business can help you make profits easily. It doesn't require much apart from sourcing your products from reliable manufacturers or suppliers. With high disposable income in Abu Dhabi, the demand for gift shops is on the rise. 
11. Storage Facilities
With increasing foreign investment in Dubai, several people need storage facilities or warehouses to keep their products safe. You can offer these services by either renting or purchasing a warehouse. While this will help address the growing needs of small and medium enterprises, it will also help you earn consistent profits.
Abu Dhabi offers a large number of opportunities across all business types. Being the largest emirate in the UAE, there is an advantage of location and business-friendly opportunities in the city. Foreign investors can choose to set up their business in the Abu Dhabi mainland or free zone as per their convenience and availability of opportunities.
However, business owners need to apply for the respective licenses such as industrial, tourism, professional, commercial, agricultural, and crafts depending upon the business niche.
Business setup costs in Abu Dhabi for two years range from AED 24000 to AED 29000. These costs mainly depend upon the type of business package chosen, including the location and business type you're investing in as a foreign investor.
The fee charged by the government for an Abu Dhabi business setup is one-time fixed in some cases and annual in others. The business setup procedure helps investors understand the costs more comprehensively-
You must register your trading name in Abu Dhabi. This will cost a one-time fee.

You will have to apply for trade licenses, activity fees, etc., which are also charged one-time by the government.

There will be certain charges levied for company incorporation.

Partnering with a local service agent will cost you some recurring fees.

You will need to pay the cost of leasing property for conducting business operations.

Additional fees regarding the

allowance of visa

and incense renewal might be required.
Here are the key steps to starting a business in Abu Dhabi
Determine the type of legal entity.
Choose a trading name.
Apply for a business license.
Choose an office space.
Get pre-approvals, register your business and get your license.
Business setup in UAE is a lucrative opportunity for entrepreneurs. At Shuraa, we offer you the right advice and support to help you get started with the market and business procedures. While we assist you with documentation and sponsorship, you can invest your time in growing your business. Reach out to our prolific experts at +918010990022. We've also available through email at info@shuraa.in.