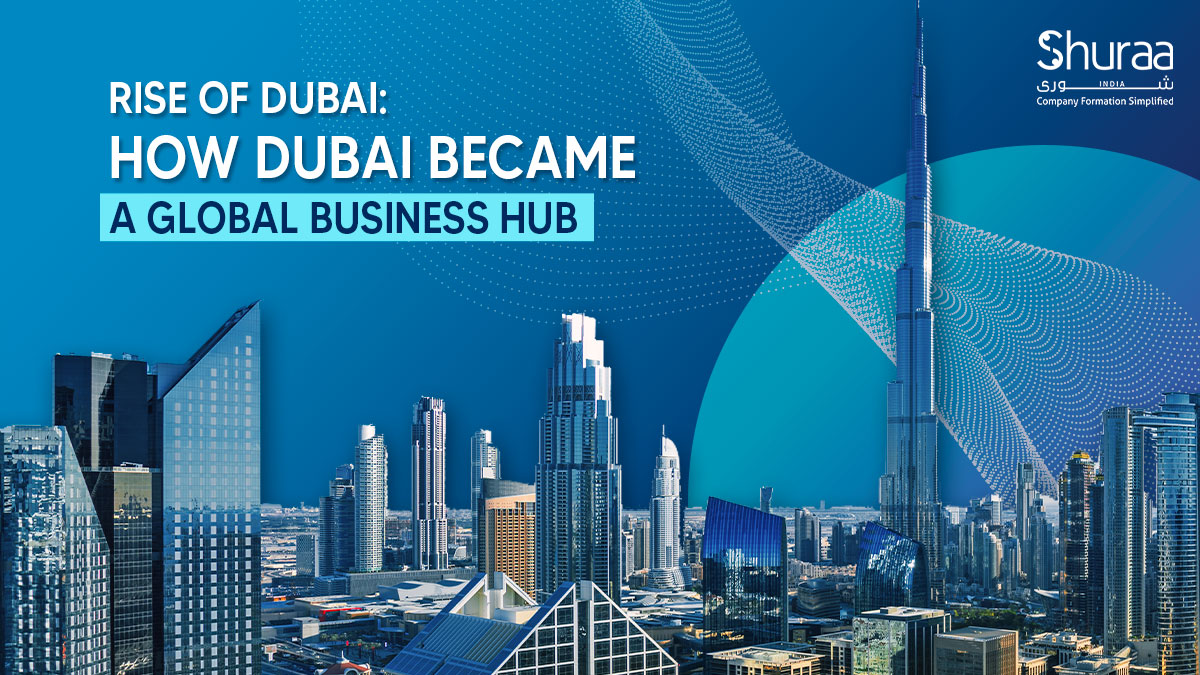 28 Nov

Rise of Dubai: How Dubai Became a Global Business Hub

Before the discovery of oil almost 50 years ago, Dubai's economy was built on the trade of pearl-fishing oil. Since then, the city has rapidly transformed into a global business powerhouse, earning it the nickname "City of Gold." Today, it is a significant hub for Arab economies, media, tourism, aviation, business, innovation, development, shipping, and financing.

However, it does not bask in the blinding light of petroleum-based riches since, unlike its neighboring nations in the United Arab Emirates, it has no oil reserves. Only when the city began to diversify its economy did it experience rapid development. From building Dubai World Trade Center (DWTC) and aesthetically pleasing buildings for housing complex businesses, Dubai has transformed into a widely dispersed matrix of commercial and financial hubs. 

Today, it ranks 1st in terms of quality of life. Moreover, Dubai is one of the world's top five tourist destinations. The city has attracted millions of tourists, with around 15.93 million foreign visitors. Home to some of the world's most impressive infrastructure, visitors are drawn to Dubai's development in line with western technology while preserving its eastern culture. 

This blog will guide you through the reasons which make Dubai business hub an ideal business place for everyone.
What Helped Dubai Become a Global Business Hub?
Besides oil and gas, Dubai is an important regional trading hub for many industries. Let's take a look at the reasons that contribute to making Dubai business hub a global business center:
1. Never-Ending Opportunities
Many economies in the Middle East and elsewhere have encountered restrictive laws and policies prohibiting foreign ownership and employment in rapidly developing emerging markets.
However, Dubai has established special zones with regulations that allow foreign investment and support specialized businesses to boost its economy. As a result, free trade agreements are being used to gain a competitive advantage.
In addition to tourism and the oil and gas industry, Dubai also provides equal growth opportunities for businesses in other sectors like construction, finance, healthcare, real estate, jewelry, and more. 
Furthermore, given the drop in oil prices and the effects of the pandemic on the service sector, the economic outlook is relatively positive after several difficult years. Economic growth should reach 6% by the end of 2022 due to rising oil production, a resurgence in tourism, and a resurgence in the real estate market. Inflation will increase but will be mild (around 3.5% on average) due mainly to the dirham's peg to the USD, which is now strengthening against all major currencies.
Undoubtedly, the advancements in the city, complemented by a positive economic outlook, will only add to and enhance the kind of opportunities that already exists here.
2. Dubai's Location
One of the main reasons why the UAE business hub is a popular business destination is its strategic location. It is thought to have the world's seventh-largest proven oil and natural gas reserves. The UAE averages 3 million barrels of oil and liquids per day, despite having 100 billion barrels of oil reserves. 
The country is strategically located near a global crude oil transit point. It is incredibly well-connected to emerging markets, making it a well-positioned trade center within easy reach of major international financial capitals. Furthermore, the major ports of the city contribute greatly to its growth and development. They act as major shipping hubs. For instance, the port of Jebel Ali. Touted for being the 9th busiest port worldwide and in the Middle East, around 13.7 million containers were moved via Jebel Ali Port per year in 2021.
3. Large and Diverse Workforce
One of the most difficult parts of launching a new business is finding the right people to work with. Dubai's pleasant working environment and flexible and affordable labor laws make hiring employees from all over the world simple and, perhaps most importantly, reasonably inexpensive. 
90% of Dubai's workforce is international, and professionals from all over the globe relocate to take advantage of the opportunities. Consequently, Dubai's workforce is diverse and skilled. 
Furthermore, the city's immigration and travel laws make it easy for visitors to enter and exit the country. It also makes it simple for businesses to adjust their workforce as needed.
4. Effective Government Assistance and Profitable Business Policies
Dubai has established export diversification policies or multilateral trade laws that allow citizens to engage in free trade to strengthen its position as a developing economy that promotes international commerce.
Businesses require government institutions that promote commercial activity and expedite business operations. In other words, no economic activity will thrive in a state that lacks a business-friendly government. The government encourages and facilitates foreign investment by offering a variety of incentives to those who want to set up business there. 
Furthermore, Dubai fosters one of the most competitive taxation policies worldwide. It does not levy any income tax on employees and workers, including their salaries, dividends, rental income from real estate, and capital gains. Also, these tax policies offer relief and exemptions for startups and small businesses, helping them thrive here. 
5.
Development of Dubai Association Center
The Dubai Association Centre, an excellent location for global organizations to thrive among Middle Eastern and international enterprises, serves as a gateway to one of the world's fastest-growing economies. The Center is dedicated to assisting and defending the interests of regional and international organizations operating in Dubai. It is also committed to ensuring that associations in the emirate have access to all the resources they require to begin, thrive, and grow. 
This is because associations have a significant potential to positively impact Dubai's economy and vision, particularly in research, education, knowledge sharing, and the creation of new industries.
Become a Part of Global Business Hub With Shuraa
Dubai is one of the most profitable business locations in the Middle East due to its numerous benefits to startups. If you're unsure how to start your own business in Dubai, the company incorporation experts at Shuraa Business Setup can help. Depending on the activity, you may need to submit different documents for starting the business in Dubai
For all your company formation needs, turn to Shuraa Business Setup. The specialists at Shuraa will offer you end-to-end business support and assist you with business startups.