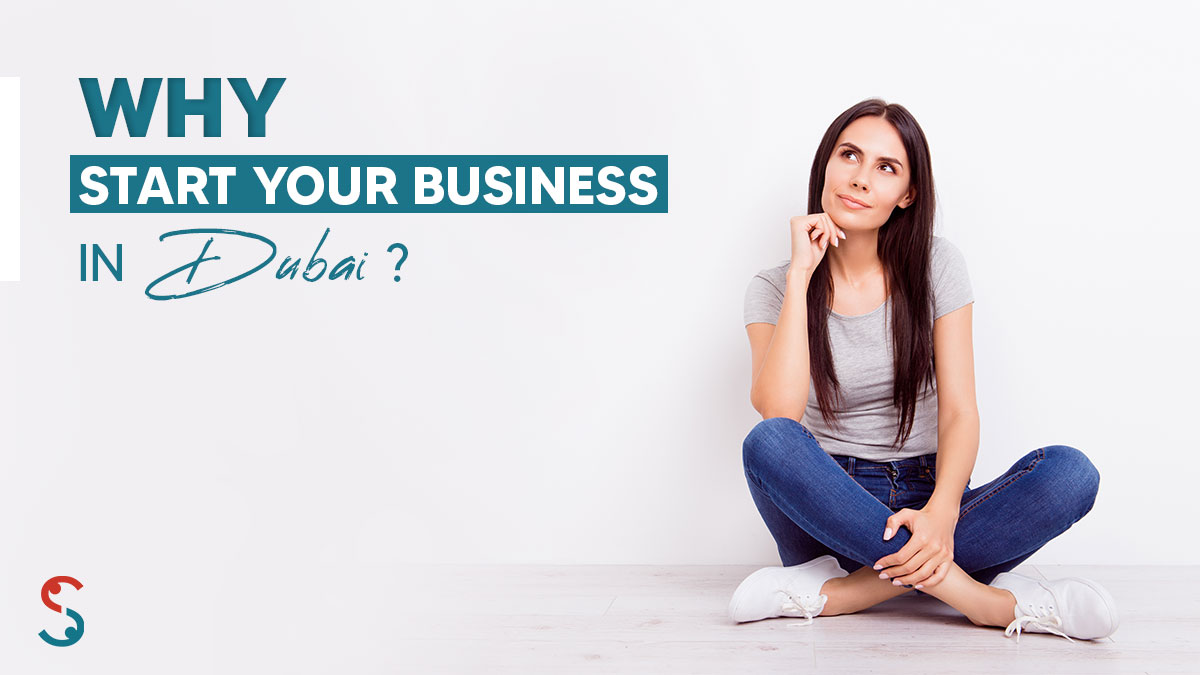 25 Feb

Why start your business in Dubai?

Are you an aspiring entrepreneur looking to start your own business? If so, have you considered setting up a business in Dubai? Dubai is a global business hub with a thriving economy, a strategic location, and a pro-business environment. 

In recent years, this city has emerged to even greater prominence on the global stage, drawing entrepreneurs and investors from every corner of the world. From the abundance of business opportunities to greater tax benefits, the city has everything, a successful business needs to thrive. 

So, let's explore some of the top reasons why starting your business in Dubai can be a game-changer for your entrepreneurial journey. But first, you need to understand a bit about Dubai's business landscape. 
Dubai's Growing Business Market
Dubai's strategic location has made it a major global hub for trade and commerce. The city is located at the crossroads of Europe, Asia, and Africa, making it an ideal gateway for goods and services to flow between these regions.  
Dubai is also a major transportation hub, with one of the busiest airports in the world. This makes it easy to get to and from Dubai, and to import and export goods. 
Dubai's strategic location has helped it to become a major player in the following key industries: 
Free Trade Zones

: Dubai has established numerous free trade zones that cater to various industries, such as IFZA, Dubai Internet City for technology, and Dubai Media City. These are special economic zones that offer tax breaks and other incentives to businesses. Free zones are a popular choice for businesses that want to trade internationally or that want to set up a regional headquarters in Dubai.

Tourism and Hospitality

: Dubai has invested heavily in its tourism and hospitality sectors. Tourism not only contributes to the economy but also creates opportunities for businesses in hospitality, retail, and events management.

Real Estate and Construction

: The real estate and construction sectors have witnessed tremendous growth in Dubai, driven by ambitious urban development projects, including the Burj Khalifa and Palm Jumeirah.

Financial services

: Dubai is a major financial center, with several banks, investment companies, and insurance companies. The city is also home to the Dubai International Financial Centre (DIFC), which is a free zone that offers a favorable regulatory environment for financial services businesses.

Re-exports

: Dubai is a major re-export hub, with a large volume of goods being imported into the city and then re-exported to other countries. This is due to Dubai's strategic location and its low taxes and tariffs.
10 Reasons to Start Your Business in Dubai
There are many reasons to start your business in Dubai. Here are some of the most important ones: 
1. Tax Benefits and Incentives
Dubai's business-friendly tax environment is a compelling reason to consider starting your business here. The absence of personal income tax and low corporate tax rates make it an attractive destination for entrepreneurs and businesses.  
This can save businesses a significant amount of money, which can be reinvested in the business or used to pay employees. 
2. 100% repatriation of profits and capital
This means that businesses in Dubai can freely transfer their money out of the country. This is important for businesses that want to grow and expand internationally. It also makes it easy for businesses to repatriate their profits back to their home countries. 
3. Startup support
Dubai has a number of programs and initiatives to support startups. These include accelerator programs, incubators, and funding programs. These programs can help startups to get their businesses off the ground and to grow. 
4. Free Zones and Business Setup Options
Dubai's numerous free zones cater to various industries and offer a wealth of benefits, including 100% foreign ownership, full repatriation of profits, and customs advantages.  
Whether you're in tech, logistics, media, or manufacturing, there's likely a specialized free zone tailored to your business needs, simplifying the setup process and reducing bureaucratic hurdles. 
5. Low minimum investment requirements
The minimum investment requirements for starting a business in Dubai are relatively low. This makes it an accessible option for entrepreneurs, even if they do not have a lot of capital. 
6. No currency restrictions
This means that businesses can freely exchange currencies. This is important for businesses that import and export goods and services. It also makes it easy for businesses to hedge against currency fluctuations. 
7. Investment Opportunities
Dubai is a city of opportunities, where smart investments can yield huge returns. With a rapidly growing economy, diverse sectors experiencing continuous expansion, and ambitious government initiatives, there are enough investment opportunities in Dubai. 
8. A skilled and multilingual workforce
Dubai has a skilled and multilingual workforce. This is because the city attracts talent from all over the world. This can be a valuable asset for businesses that want to operate in a global market. 
9. Easy visa and residency procedures
The visa and residency procedures for foreigners are relatively easy in Dubai. This makes it a good place to live and work. It also makes it easier for businesses to attract and retain talent from all over the world. 
10. A favourable regulatory environment
The government of Dubai has a favourable regulatory environment for businesses. This makes it easy to start and operate a business. The government also provides a number of incentives and subsidies to businesses, which can help them to grow and succeed. 
How to Start Your Business in Dubai?
Starting a business in Dubai can be an exciting adventure, but it's essential to understand the step-by-step process to ensure a smooth and successful launch. 
Choose a business activity:

The first step is to choose the type of business you want to start. You need to decide on the industry you want to operate in and the target market you want to reach.

Choose between a free zone or the mainland:

You need to decide whether you want to set up your business in a free zone or on the mainland. Free zones offer a variety of tax benefits and other incentives, but they also have some restrictions. The mainland does not offer the same tax benefits, but it does not have the same restrictions.

Register Your Business:

Register your business with the appropriate authority, such as the DED for mainland businesses or the respective free zone authority for free zone companies.

Obtain the necessary licenses and permits:

You will need to obtain the necessary licenses and permits from the government before you can start your business. The specific requirements will vary depending on the type of business you are starting and the location of your business.

Open a Corporate Bank Account:

Open a business bank account in a reputable bank in Dubai. This is essential for conducting financial transactions and managing your company's finances.

Complete Visa and Labor Approvals:

If you plan to hire employees, obtain the necessary visas and labour approvals for your staff. The process may vary depending on the location and type of business.
Is it Difficult to Establish a Company in Dubai?
Establishing a company in Dubai can seem like a daunting task, but it doesn't have to be. With the help of experienced business setup consultants, you can easily navigate the process and get your business up and running in no time. 
At Shuraa Business Setup, we have a team of UAE business setup consultants, lawyers, PRO executives and company formation experts who can help you every step of the way. We will guide you through the legal requirements, obtain the necessary licenses and permits, and help you set up your business in the most efficient way possible. 
With over 22 years of industry experience, we've had the privilege of assisting over 50,000 entrepreneurs in making their dreams of establishing businesses in the UAE a reality. 
So, let us help you too in starting your dream company in Dubai.