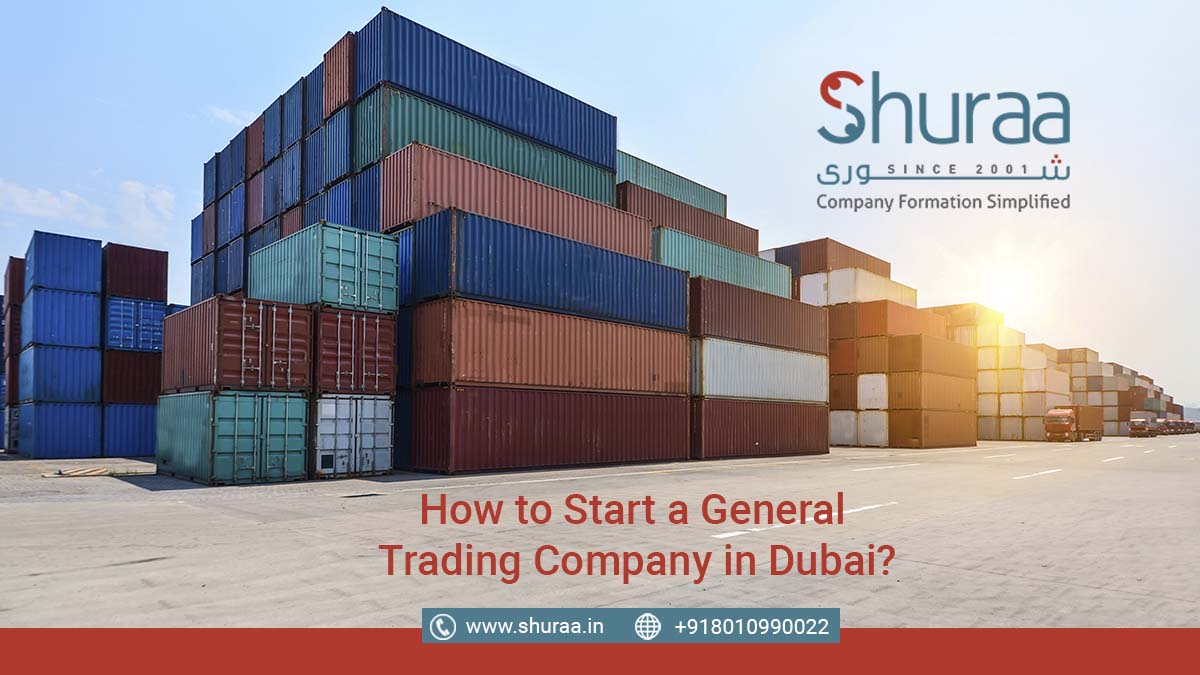 11 Jun

How to Start a General Trading Company in Dubai?

Business owners and entrepreneurs find a plethora of lucrative business opportunities in the UAE. Moreover, the supportive government, business-friendly laws, several tax exemptions, etc., empower the new-age investors to launch their full-fledged ventures in the heart of the Middle East. Therefore, it makes perfect sense to start a general trading company in Dubai and grab this opportunity with both hands.

Trading in Dubai is a beneficial venture, thanks to the hassle-free resource availability, and supreme transport facilities. You can apply for a general trading license and indulge in various business activities, some of which include commodity trading, grocery stores, retail shops, and many more. Furthermore, setting up a trading company in Dubai becomes easier than ever when you get in touch with the legal advisors at Shuraa, who provide end-to-end assistance.
How to set up a general trading company in Dubai?
Opening a trading company in Dubai is straightforward if you're aware of the procedure. Here, we provide a stepwise summary for opening a general trading company:
1. Finalize your company's structure and business activities
You have a plethora of options when finalizing your company's structure in the UAE. You're free to form an LLC (limited liability company) in the mainland region or launch a sole proprietorship in any of the free trading zones. You can also open a trading company in Dubai in the offshore region.
Moreover, you need to approach the DED or the concerned economic department and interpret their list of permissible business activities. However, you don't need to worry if any of the desired activity isn't mentioned in the list as you can obtain external approval for the same.
2. Trade name reservation
All businesses in the UAE need to secure a legal trading name for their venture. The name must be unique, indicative of your business activities, and not a gimmick of some other established brand. Ensure that you follow all the naming conventions when deciding the business name of your general trading company in Dubai.
Furthermore, refrain from using any reference to gods and never use controversial words, derogatory terms, or names that hurt the sentiments of any religion or community. Always use the full name of a person when using it as your company's official name in the UAE.
3. Acquire the initial approval
It's critical to obtain the initial approval certificate from the department of economic development or any other concerned authority as you'll need it to obtain your general trading license.
All you need is the payment receipt of trade name reservation alongside a few mandatory documents (for identification and business verification), and you'll get the initial approval once the authority is satisfied with your submissions. You need to re-submit the documents that the authority doesn't find conclusive or satisfactory.
4. Obtain the general trading license
You need a legal business license if you wish to carry out trading in Dubai. Therefore, it's imperative to obtain a general trading license for your trading company in Dubai to ensure that there aren't any compliance issues or legal troubles related to your trading enterprise.
Applicants need to submit a number of documents alongside the initial approval certificate to acquire this license. You can apply for additional approvals to the concerned governing bodies for the business activities not covered under your general trading license.
5. Secure customs clearance
The local general customs clearance authority provides a unique import and export code to each trading company in Dubai to maintain a robust and secure trading mechanism.
Therefore, you should obtain the same from the customs authority once you have the general trading license with you. You're allowed to carry out trading in Dubai once you have paid the necessary fee for the corresponding import code for your trading company.
6. Open a corporate bank account
You need a corporate bank account to manage the monetary transactions of your trading company in Dubai. Ensure that you open your bank account in a reliable bank that offers long-term benefits.
You can collaborate with the business consultants at Shuraa, and we'll find the best bank for you by understanding your business requirements and aspirations.
Permissible activities for a general trading company in Dubai
Business owners and investors can explore various business activities permissible under a general trading license. Here, we list down some of the prominent ones:
Import and export
Trading companies in Dubai can carry out various import-export activities and trade in several goods and commodities. Holding a general trading license permits you to deal in foodstuff, electronics, accessories, and much more.
Grocery store
You can open a grocery store in the UAE if you possess a general trading license. A general trading company in Dubai can deal in various food products, small items, and other foodstuff-related products.
Retail shops
You can become a member of the UAE's retail economy by opening a trading company in Dubai. It can be a brewery, accessory store, jewelry outlet, or any other retail shop covered under a general trading license.
Documents required to launch a general trading company in the UAE
Documentation and paperwork is a critical aspect for opening any legal entity in the UAE. Therefore, it's no different with regards to a trading company in Dubai too. Here's a curated list of documents to make it easier for you:
Passport copies of all the partners in the company
Passport-size photographs of the applicant in compliance with the photography protocols
MoA and LSA agreements
Trade name approval letter issued by the concerned authority
List of General Trading Companies in Dubai
Mezotic General Trading
Zara General Trading FZCO
Quebec General Trading
Coral Sky General Trading L.L.C
Darou Salam General Trading L.L.C
Powerex General Trading L.L.C
Connect with Shuraa
A general trading company in Dubai can earn you sizable profits right from the start if you have the right guidance to go about your business operations in the UAE. Therefore, you should partner with Shuraa Business Setup.
We have already helped more than 20,000 clients make a name for their brand in the marketplace, and we would love to help you in doing the same. Our experienced business experts become a part of your professional journey and do all the heavy lifting for you so that you can focus on other growth-related activities. Be it paperwork, licensing, additional approvals, banking, or anything else – we handle it all.
Book a free consultation.