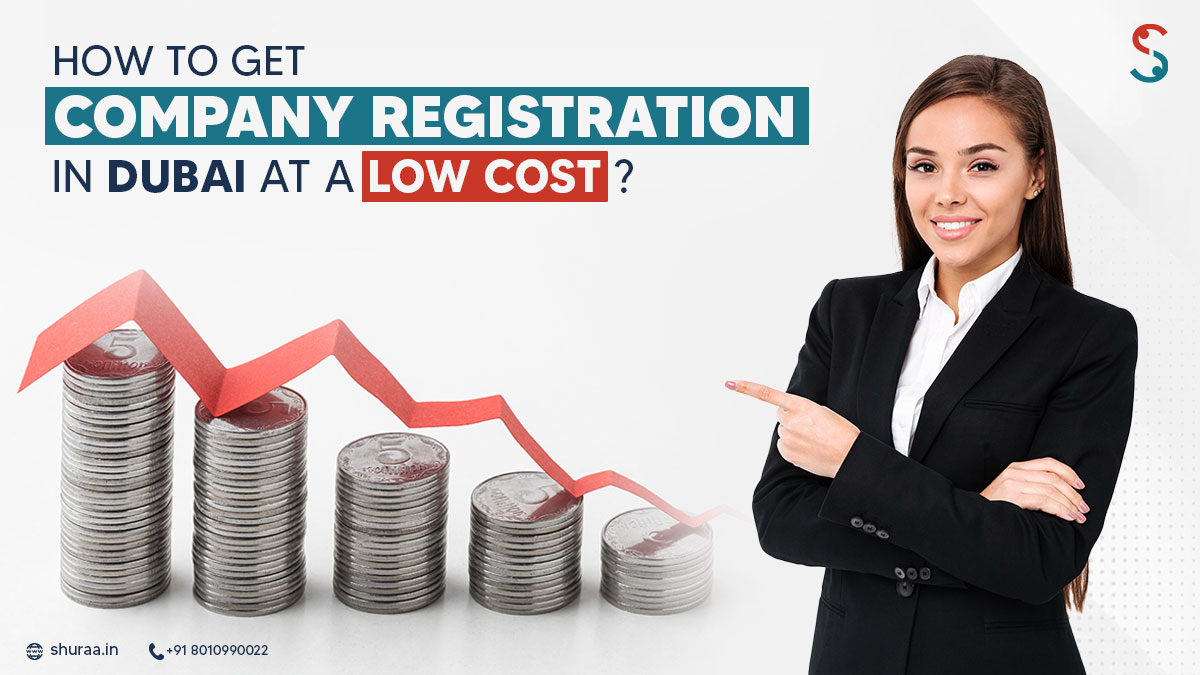 25 Feb

How to get Company Registration in Dubai at a low cost?

Dubai, a bustling metropolis in the UAE, is a thriving business hub attracting entrepreneurs worldwide. Take charge of your entrepreneurial aspirations and discover the secrets to cost-effective and hassle-free company registration in this dynamic city. Say goodbye to high costs and complexities and embrace a smoother path to establishing your business in Dubai's vibrant landscape. Join us on an exciting journey of discovery as we reveal the hidden gems to achieving your dream of cheap company registration in Dubai

In this guide, we'll share proven strategies for setting up your business in Dubai efficiently and affordably. Get ready to unlock the gateway to entrepreneurial success without breaking the bank. Read on for key steps to achieve a cheap company registration in Dubai.

Choose Shuraa Business Setup as your trusted partner for a cost-effective, high-quality business setup in Dubai. We streamline the process, eliminate unnecessary expenses, and offer the most affordable options for your company registration. Rest assured, our assistance ensures a low-cost and efficient setup.

Ready to unlock your entrepreneurial success without breaking the bank? Keep reading to discover the key steps for cheap company registration in Dubai with Shuraa Business Setup's expert assistance. Let's embark on this journey together and turn your business dreams into a reality!
Overview of Company Registration in Dubai at a low cost
Starting a business in the UAE can vary based on the chosen location, free zone, or mainland. Establishing a company in a free zone is one of the most economical options for a cheap startup.
Setting up your business in the free zone offers various benefits, apart from the budget advantage. However, to engage in government commerce or contracts within the UAE's regional market, you must establish your company on the mainland. Nevertheless, this option can still be economical depending on your company's type and size. Additionally, it allows for other benefits by setting up your business in the free zone.
You can get help choosing the setup that best fits your needs and budget from our qualified company formation consultants at Shuraa as we will guide you in every step of cheap company formation in Dubai.
Top Tips to Minimize the Cost of Starting a Business in UAE
By diligently following the steps outlined below, any investor can seamlessly embark on cheap company registration in Dubai. Moreover, these straightforward steps will pave the way for a hassle-free process.
Understanding your company's demands and coordinating them with mainland or free zone services will help you save additional resource costs and enable you to make significant future financial savings.
Setting up your firm with the guidance of business experts, who offer budget-friendly solutions. Their packages include assistance with papers, licensing, and visas. Dealing with documentation and other formalities costs a lot of money.
Optimize your expenses wisely by carefully assessing your actual need for a physical office space. Moreover, consider the cost-effectiveness of your choices before making a decision. Additionally, consider alternatives such as co-working spaces, virtual offices, or remote work setups; these can be cost-effective solutions for your business. This can lower your spending and allow you to invest the same amount in activities that will help your organization flourish.
Ensure to conduct a thorough background check on local service providers and sponsors. A legitimate business establishment can help you set up all the necessary requirements at a reasonable cost. However, choosing the wrong option at this stage could lead to unforeseen challenges later on. Therefore, it is crucial to carefully consider your decision.
What is the difference between a free zone and a mainland company in Dubai?
If the company needs unfettered access to markets outside of the UAE and the local market, you can choose a mainland corporation. The DED will establish the rules for companies that are set up on the mainland. Additionally, 2000 business operations are allowed to take place here.
For your wallet's best interest, we highly recommend choosing this region, as you can apply for multiple visas at a significantly reduced cost. This will undoubtedly become a prime business area for all investors due to its incredible infrastructure, as well as the abundance of business ideas available online.
If you establish your firm in a free zone, you can fully control it without having to adhere to any shareholder regulations. There are numerous general free zones that will accept any type of business.
It would be possible to register your business in the free zone if you don't think you have much knowledge of the mainland. Additionally, you can choose from a range of flexible or smart working environments, which will greatly assist you in creating a cost-effective business in Dubai. Moreover, these options can contribute significantly to your business's success in the dynamic city.
How do I get the cheapest company registration in Dubai?
A specific amount does not approximate the precise cost of forming a business in Dubai. The price varies depending on the company's size, kind, location, etc. Moreover, the required legal authorization also plays a significant part in determining the expected expenditures. Additionally, it is essential to consider the necessary legal authorization, as it greatly influences the expected expenditures.
However, despite the complexities involved, it is still possible to estimate startup expenditures ranging between 12,500 and 30,000 AED. Embarking on a business venture in Dubai may initially seem to come with a hefty price tag. However, you can significantly benefit from the low-cost business setup in Dubai, provided that you are well informed about the dos and don'ts for Dubai business registration.
After the COVID-19 impact on businesses, enormous free trade zones have given alluring packages to assist investors with their demands and this will help in cheap company formation in Dubai. Therefore, opting to base your firm in Dubai is undeniably a wise choice.
What is the cheapest way to register a company in Dubai?
Following are the essential steps that you need to follow to cheap company formation in Dubai:
1. Decide on Your Activities of Business
First, determine the activities in which your business will be involved, as some operations require additional government approvals. Long-term problems could arise if you don't do this.
2. Reservation of Business Name
After describing all of your business activities, choose a name for your company. Observe all guidelines given by the government. Stay away from registration delays. Any name may be chosen; however, it is essential to ensure that your company name is conveyed effectively without implying rudeness, insult, or offending religious convictions.
3. License Application
You must submit the business application along with all necessary paperwork and approvals. The DED (Department of Economic Development) is in charge of approving and providing licenses to your business if you want to establish it on the mainland.
Depending on the type of business—from salon business ideas to any other business, a license will be granted by regulatory authorities. To ensure a smooth process, the following documents should be included in the paperwork:
Applicant's passport and visa copy
An initial certificate of approval
Applicant colored photographs
4. Managing Your Visa
After completing the aforementioned processes, you can submit a visa application. Additionally, depending on your requirements, you can also apply for visas for your friends, shareholders, and other staff members. Furthermore, the process is straightforward and efficient.
Moreover, if you require several visas, it is advisable to register your company on the mainland because the laws are more lenient in that region. Additionally, this option can be more beneficial for your visa needs. In addition to that, you'll find that mainland registration provides more flexibility for your visa applications.
Unlock Affordable Cheap Company Setup in Dubai With Shuraa
With Shuraa Business Setup as your partner, streamline the process, avoid delays, and turn your dreams into reality. Thorough research, proper documentation, and smart decision-making will lead you to establish your business in this thriving metropolis without breaking the bank. Take the first step towards success and seize the vast opportunities offered by Dubai, ensuring a prosperous future for your venture. Let Shuraa Business Setup navigate the complexities, and watch your business thrive in the heart of this dynamic city.
To connect with Shuraa Business Setup. We look forward to assisting you with your company formation needs in Dubai.