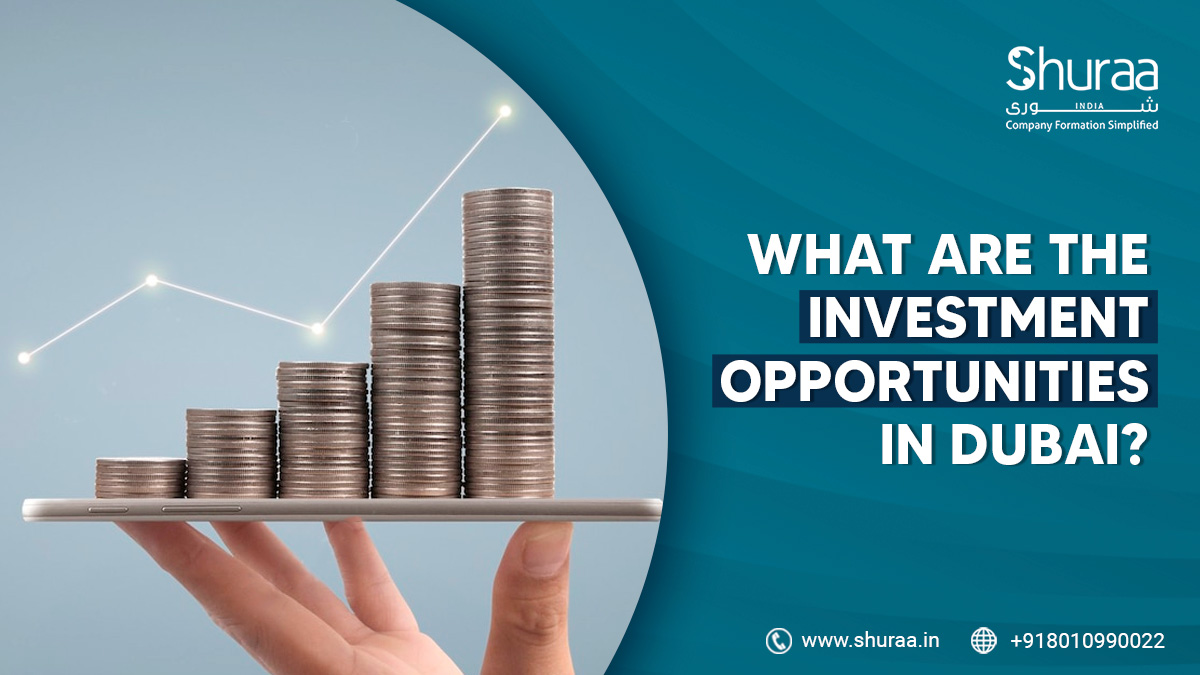 23 Sep

What Are the Investment Opportunities in Dubai?

Dubai has a history of attracting foreign direct investment due to its appealing tax-free structures and lack of restrictions on revenue repatriation. So, there are various investment opportunities in Dubai for foreigners. 

According to the Financial Times fDi Markets data, Dubai has maintained its top spot globally for attracting FDI into tourism in 2021. With $1.7 billion across 30 FDI projects, Dubai led the world in FDI capital, projects, and job creation in the tourism sector in 2021. Furthermore, these new projects have created 5,545 jobs.

Foreign capital pouring into Dubai's tourism and hospitality industries and encouraging the development of new attractions and destinations demonstrates the city's ability to maintain its economic appeal and attract residents, tourists, and members of the international investor community.

But that's not all. Dubai has more to offer. This blog will walk you through the investment opportunities in Dubai other than the travel and tourism industry. 
What Are the Benefits of Investing in Dubai?
Here are some benefits of the investment opportunities in Dubai:
1. Favorable Rate of Return
Dubai, dubbed as a hybrid city by the American firm JLL, stands right between the world's "developing cities" and "new world cities" by redefining luxury through its real estate and hospitality. According to the Economic Intelligence Unit, Dubai is one of the best cities in the MEA region to live in, with a high ranking in its global liveability ranking.
Rent returns from all investors, genuine estate investors, are significantly higher than rent returns from any other type of real estate market. This is still true, even though the market has slowed considerably due to the pandemic effect.
2. Minimum Gains Taxation
One of the primary advantages of investing in Dubai is the favorable tax environment. Dubai's government does not levy taxes on investment interest. Unlike most countries, the UAE does not tax personal capital gains or dividend income.
Capital gains from investments in the UAE are either taxed minimally or not. Real estate investors may be the only ones who have to pay municipal property taxes. However, tax rates are frequently less than 5%, which is relatively low compared to other parts of the world.
expanding commercial possibilities
According to the Global Power Index 2020, Dubai, a global trade hub, is one of the world's top 10 cities (GPCI). The city is a central trade hub for Asia, Africa, and Europe, attracting. 
3. Businesses From All Over the World
The highly progressive outlook of Dubai's government provides a practical and encouraging environment for businesses to develop and expand within a free enterprise system. Business leaders see Dubai as an opportunity-rich region with explosive growth in the coming years. Dubai's commitment to economic development is exemplified by Expo. Investing aggressively in this expanding market will undoubtedly pay off.
Investment Opportunities in Dubai
Here are some investment opportunities in Dubai:
1. Real Estate
Dubai, which many regard as the epitome of a prosperous lifestyle, provides top-notch residences, hotels, offices, and much more. As a result of the new law that the government enacted, Dubai has become the ultimate haven for real estate investment. 
It is legal in the UAE for anyone to own property. This has allowed many expats to invest in real estate, perhaps the most reliable, dependable, profitable, and secure investment option. There are designated freehold areas in Dubai where foreign ownership is permitted. Foreign nationals outside the UAE and expatriate residents are free to acquire full freehold ownership rights to real estate. 
Investors may also benefit from usufruct rights and leasehold rights for a property up to 99 years. You now have temporary permission to use or profit from someone else's property. This could turn out to be one of your best investments for passive income.
Read More about: How to start a Real Estate Business in Dubai
2. Stocks Exchange
When it comes to capital investments, stock investing is an obvious choice. Individuals can own a portion of various organizations' capital by trading their equity through stock investments. If you do your homework, have a committed attitude, and are willing to take calculated risks, you can invest a lot of money in stocks. However, a lack of market research and comprehension could result in significant losses. 
There are two main stock exchanges in Dubai:
Dubai Financial Market- The Dubai Financial Market is a stock exchange in Dubai, United Arab Emirates (DFM). It was founded on March 26, 2000. As of 2014, DFM had 67 companies listed. As of

2014

, DFM had 67 companies listed. The Securities and Commodities Authority regulates the DFM, which trades shares in companies based in the UAE, Kuwait, Bahrain, Oman, or other Gulf countries (SCA).

NASDAQ Dubai- NASDAQ is another stock exchange in Dubai. It includes both domestic and foreign businesses, regardless of the size of their markets. It allows you to trade equities derivatives and REITs (Real Estate Investment Trusts). The Dubai Financial Services Authority is in charge of NASDAQ (DFSA).
3. Investing Funds
Mutual funds are another option for investing money. People who lack the knowledge or time to assess stock market movements regularly frequently use this option. Mutual funds diversify by investing the money raised in various businesses. Portfolio diversification ensures a balance between your risks and returns by intelligently investing your money in multiple areas and companies.
Read More about: Detailed Guide to UAE VAT Registration Services in Dubai
 4. Gold
Dubai is known as the "golden land." Many people in this country consider gold one of the best investments because of its high value. Anytime is an excellent time to sell precious metals for a good profit. Because of the daily fluctuations in the gold market, it is critical to conduct thorough research before investing any money.
In the UAE, which is well known as the country's commercial hub, gold is sold at the gold price plus a manufacturing fee. This distinguishes it from the rest of the world, where making fees are added as an extra fee and gold is sold per unit. Making fees in Dubai are fixed rather than based on a percentage of gold prices.
Read More about: How to Start Gold Trading Business in Dubai?
5. Cryptocurrency
The exponential growth of Bitcoin, Ethereum, and the cryptocurrency industry, in general, is most likely the topic of conversation among your friends, family, and coworkers these days. 
Unlike traditional forms of payment, cryptocurrencies are decentralized but limited, making them rare and valuable because everyone wants to participate in them. While several countries, including the UAE, permit limited use of cryptocurrencies, many international corporations have made headlines by accepting bitcoin as payment. Some notable cryptocurrencies to invest in include Bitcoin (BTC), Ethereum (ETH), Ripple (XRP), and Litecoin (LTC). You can buy or sell them via platforms like eToro, Crypto.com, Alvexo, and more.
Read More about: How to Set Up a Crypto Business in Dubai?
Start Your Investment With Dubai!
Your choice to invest in Dubai is the appropriate one due to the promising business opportunities and strong environment. Now all you have to do is work with a reputable business consultancy to meet the requirements for the most significant investment opportunities in Dubai. 
A one-stop shop for all your Dubai business investment needs is Shuraa. Our business experts handle the paperwork, licensing, banking, and many more associated with company incorporation in the UAE at highly affordable rates.