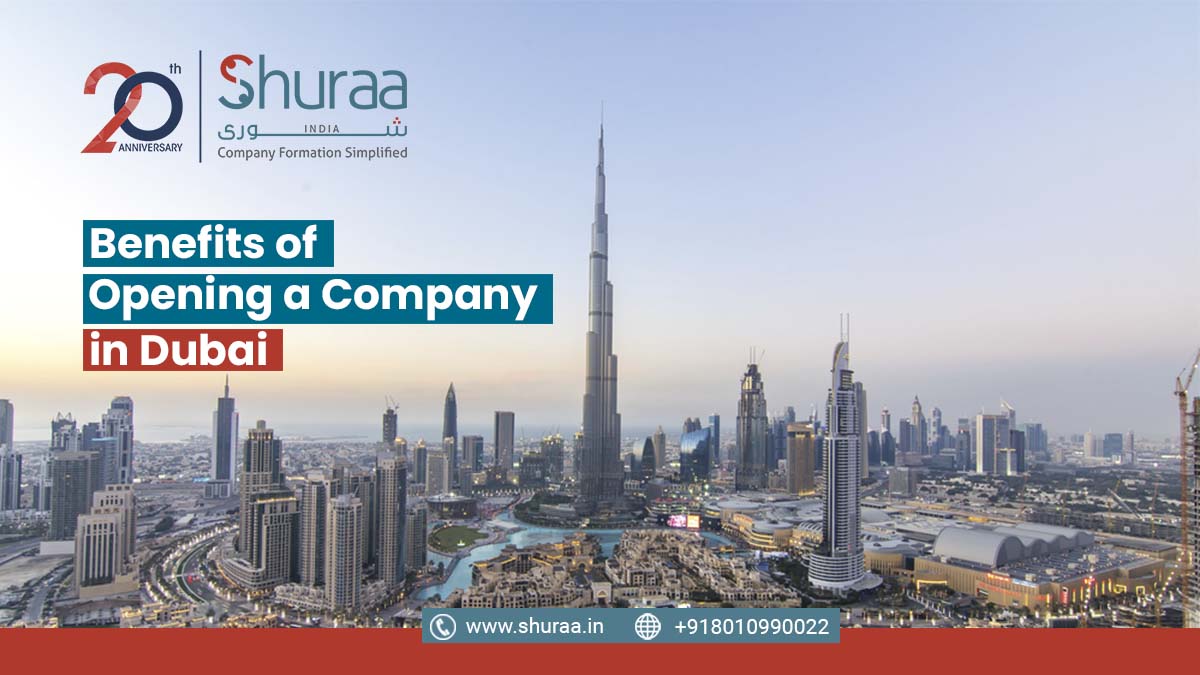 11 Sep

Benefits of Opening a Company in Dubai

Amongst the 7 emirates of the UAE, Dubai is one of the most popular cities and holds global significance as a business hub. The countless benefits of Opening a Company in Dubai have made it very desirous for foreign trade and investments. The Dubai government opened the gates for various types of business setups from around the globe. They were confident that allowing foreign business would benefit both sides. The Dubai government was right and now both the city and the foreign investors enjoy many benefits of opening a company in Dubai.  

Dubai is now financially very powerful and you can also plan for starting a business in Dubai. Let's take a look at a few prominent advantages of starting a business in Dubai to help you understand better. 
Top 10 Benefits of Starting a Business in Dubai
If you are still thinking about why starting a business in Dubai is the right option for your business activity. Check the benefits of opening a company in Dubai from India-
1. Ease of Business Setup
With rapidly evolving tech facilities and cooperative government, starting a business in Dubai is easier than ever. Now, registering your business in Dubai is just a few taps and days away. The process of company formation in Dubai is very easy to follow and requires less paperwork. You can always reach out to an expert and experienced business setup consultant in Dubai to assist and guide you throughout the whole process. If you are in India, you can also reach to the Shuraa Business Setup Indian branch for expert advice.
2. Recruit Expatriate Employees
Dubai is known for being one of the most popular business hubs globally. Investors from around the world wish to do business in Dubai and reap numerous profits. It has also successfully expanded away from the oil business to other industries like tourism, hospitality, logistics, etc. These business sectors cover 60% of Dubai's GDP. Moreover, these sectors offer a good number of employment opportunities, allowing private companies to recruit expatriate employees. 
3. No Taxation
One of the prominent benefits of opening a company in Dubai is that you do not have to pay any taxes. Dubai offers total exemption from any kind of tax, be it income, corporate or personal tax. Though, a few companies might have to pay a 5% VAT applicable on certain business activities. 
4. More Than 20 Free Zones
Dubai gives you the choice to set up your business either in a mainland region or a free zone. The city offers 20 plus free zones to choose from. Starting a business in Dubai free zone is considered beneficial as businesspersons can have complete ownership of their company in a free zone. Furthermore, it allows 100% repatriation of profits earned and capital invested. Setting up your company in a free zone also gives you an opportunity to collaborate with others in the same industry. 
5. Technological Advancements
Dubai is one of the Emirates with the most advanced digital facilities. It is on the way to a technologically powered future and becoming the world's digital hub. The city has taken so many tech initiatives when it comes to reducing traffic, providing world-class internet services, transforming healthcare services, eCommerce, etc. This promotes and increases opportunities to conduct business online in the country. 
6. Advantageous Geographical Location
Sitting at the crossroads, connecting East, West, North, and South, Dubai creates a natural bridge between the manufacturers, producers, and suppliers of significant goods from around the world. Dubai has the most active and busy airports in the world. Both seaports and airports are situated in such places that provide good connectivity, making the logistics easy. This helps the import-export, re-export, and tourism businesses flourish. 
7. Top-Notch Infrastructure
Everyone knows that the capital city of the UAE has the world's best infrastructure. The infrastructure in Dubai keeps evolving with time, getting even better, and attracts a lot of business people. In addition to that, Dubai also provides a great public transport system, good telecommunication facilities, terminals, etc. With Dubai Expo 2020 around the corner, the Dubai government is highly investing to make the infrastructure more attractive and advanced. 
8. Comfortable and Quality Lifestyle 
People in Dubai get to live among people from so many diverse cultures, religions, and communities. Living in such a diverse place allows people to learn about so many different cultures and rituals. This helps them build and maintain good relationships. Moreover, the population of Dubai is always interested in prime services and shopping. Starting a business in Dubai will ultimately proffer comfortable lifestyles. 
9. Easy Visa Obtaining Process
If you are starting a business in Dubai, you can easily get employment and a residential visa. Once you have your visa, you can rent or lease a property, travel from one country to the other, or buy vehicles. 
10. Exceptional Government Support 
The Dubai government never fails to provide top-notch facilities, incentives, and safety to foreign investors. It keeps on amending the rules and regulations to conduct business in the city to ensure quality, advancements, and increasing business opportunities.
Moreover, the government keeps organizing various international events and comes up with many initiatives for business expansion. The government offers an easy-to-follow, fixed set of rules and regulations in order to conduct business. All entrepreneurs must adhere to these for smooth business setup and functioning further. 
Steps to starting a business in Dubai
Select a business activity.

Select the jurisdiction.

Finalize the company structure/legal form. 

Get approval for your company name and activity. 

Apply for your trade license.

Register your company.

Find a local agent (if required).

Get your external approvals.
Avail Affordable Business Setup Services in Dubai
It's only natural if you too want to start a business in Dubai after reading the above-mentioned benefits of opening a company in Dubai. If you wish to get detailed information about company registration and formation in Dubai, you can connect with business consultants at Shuraa Business Setup & its Branches across the globe. 
We will provide you with all the necessary information for company formation in Dubai. Once you get in touch with us, we will guide you to layout a proper plan, arrange all the required documents and acquire your business license at a low cost.