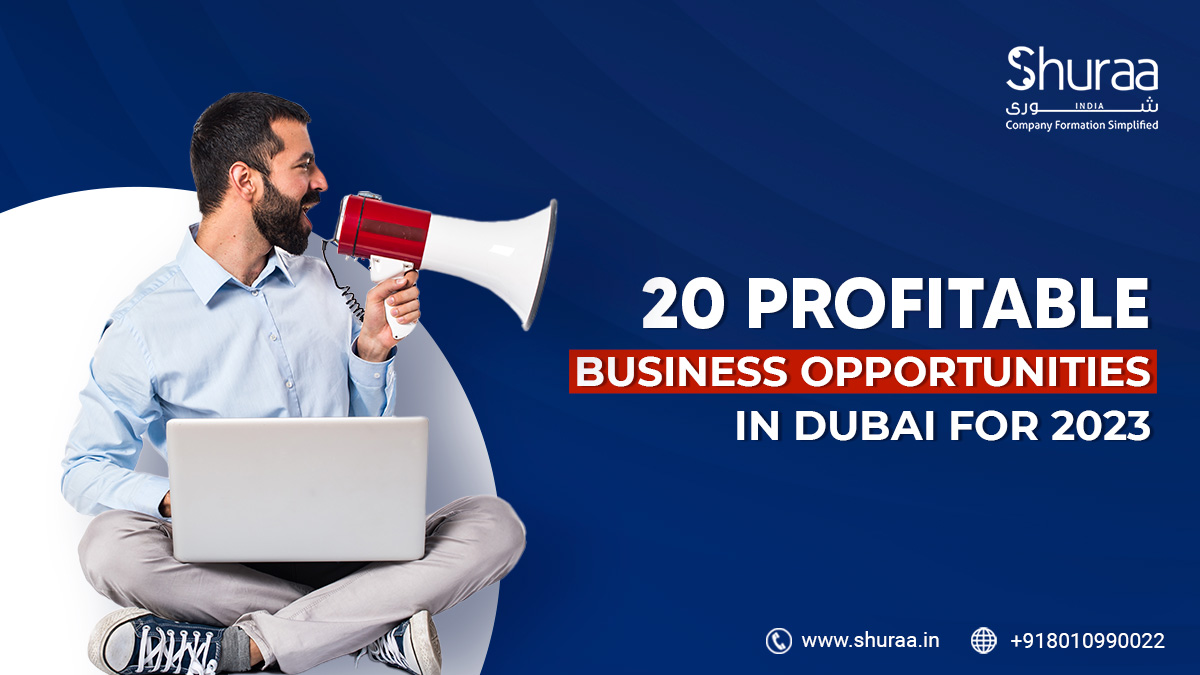 25 Feb

20 profitable business opportunities in Dubai for 2023
Business opportunities in Dubai
Dubai is one of the topmost destinations for business people and investors in the whole of the Middle East. The government policy and the state-of-the-art infrastructures support the growth of small businesses, as well as large corporations making Dubai a hub for opportunities
Business opportunities in Dubai are not just open to the citizens of the United Arab Emirates, but also to foreign investors as well. As a matter of fact, foreign investors are wooed into Dubai because the presence of a foreign business is a major boost to the economy of Dubai.
There are many free trade zones in Dubai and that is why commerce and trade are at their peak in Dubai. People come from far and wide to shop in Dubai simply because they tend to get cheaper goods there.
So if you are looking to invest in the UAE, then you will have no problems in terms of setting up your business. But there's a need to know the best markets to invest in. without wasting time.
So, if you're looking to start new online business opportunities in the UAE, here are 20 potential business ideas for your consideration.
20 Business opportunities in Dubai for 2023
1. Construction:- Dubai is a city where construction never stops, new buildings and structures are being built continuously, which allows an opportunity for engineers and other professionals related to this field to kick-start their business or get involved with the business. similarly, businesses can be set up that will sell raw materials used for the construction of buildings.
Read More about: How to start a Real Estate Business in Dubai
2. Oil and Gas:- Although the oil sector has been exploited for years and has been a major reason for the riches enjoyed by the UAE, the sector still has enough room to accommodate a number of new investors who can start their businesses from scratch or can also enter into a partnership with existing businesses in the same sector.
3. Financial services:-Since Dubai is a huge market with the presence of a large number of established businesses, which on other hand increases the demand for professionals who can offer financial services such as accountants, bookkeepers, and auditors. Having a solid background in any of the specialties with respect to finance can help you make a lot of profit by setting up a business that will offer such services.
Read More about: Detailed Guide to UAE VAT Registration Services in Dubai
4. Food industry:- Food industry is one such industry that can make a profit and thrive in every part of the world and Dubai is no exception to this reality. Dubai has a high demand for foods and snacks, and opening such kind of business can prove to be very profitable.
Read More about: How to Start a Foodstuff Trading Business in Dubai
5. Healthcare:- No matter the country especially in developed countries people are always conscious about their health and a similar is the case with Dubai and its people. There is always a great demand for healthcare service providers and facilities. If you happen to be a healthcare professional and looking to start a private business, Dubai is the right place to start such a business.
6. Security:- Analysing the security satiation in Dubai one can easily predict that it is a very safe country, however, the businesses and individuals are not ready to take their chances when it comes to the security of their assets, and thereby it has led to an increase in the demand for security devices and professionals as well.
7. Tourism:- Dubai is one of the most sought-after tourist destinations for people all over the world and as such there are a number of luxury hotels and restaurants. Due to the influx of a number of tourists round the year, one can easily invest in this sector and thereby reap huge benefits from the business.
Read More about: How To Start A Tourism Business In Dubai
8. Transport:- There is an ever-high demand for the services in the transport sector and investors can easily reap the profits of this business if they intend to start one in Dubai.
9. Environment:- As Dubai is seeing rapid growth in various sectors mainly in construction and industrialization the same are responsible for any damages that are caused to the environment in the long run. People of Dubai are becoming more conscious regarding the environment and thereby a huge number of opportunities await investors in this area for offering various environmental protection services such as waste recycling.
10. Travel agency:- Being one of the major tourist destinations in the world, a travel agency is a good business to start. Millions of people visit Dubai every year not only for work-related activities but for holidays as well, thereby the travel agency business can prove to be a profit-earning business.
Read More about: How to open a travel agency in Dubai
 11. Trading:- Traders from around the globe usually meet in Dubai to exchange goods and services. The phrase "exports and imports" is very common since the people's major source of income is from trading. You can actually export or import any marketable products such as dried fruits, textiles, fashion materials and accessories, plastic goods, and vehicles.
Read More about: How To Get Import Export Business License In Dubai
12. Business Franchises:- Business franchising is a fresh idea in Dubai. Because of the large ex-pat population and the mixed tastes of the people living here, for several years now, this idea has performed pretty well. In the fast-food industry, you should get a company franchise, since this is one of Dubai's fastest expanding sectors.
13.  Jewelry making and Retailing:- Dubai is regarded as the "Mecca of Gold" all over the world and the so-called "Dubai Diamonds" are still sought after. As a jewelry maker, bead maker, or jewelry retailer, you can set up a store.
Read More about: How to Start Gold Trading Business in Dubai?
14. Childcare facilities:- Working-class professionals are the bulk of the population in Dubai. Today they typically shift to a childcare center to care for their young people while both husband and wife are busy professionals. On this one, too, you should ponder.
15. Specialty schools:- Specialty schools are needed because Dubai is full of ex-pats from different nationalities. Any sort of granular specialty school you can conceive of and make some money out of it. This is a prospect for a company that you should consider now.
16. Real Estate:- Dubai was a desert once, but no more. Believe it or not, one of the country's largest businesses is real estate. Construction companies also race for contracts in different markets, including infrastructure, industry, and logistics, among other types of construction projects.
Read More about: How to start a Real Estate Business in Dubai
17. Job Agencies:- In Dubai, career agencies are another hot market prospect for professional employees in particular. In a fast-growing economy, there is a need for a lot of professional workers to keep businesses running in different fields. The country, among many others, is in desperate need of accountants, IT specialists, nurses, engineers, and building workers.
18. Bars, entertainment houses, and nightclubs:- Dubai is a country full of busy people and what do they do to mark the end of the working day when the evening bell rings? They enjoy some time together in order to get rid of the pressures from the daily grind with a cocktail or two. Especially for expatriates, you can set up a nightlife entertainment scene.
19. Multi-level marketing:- In Dubai, there are tough rules against pyramid schemes. But if you have the company's government permission, the possibility is limitless.
20. Energy:- Although there are enough players in the energy sector in the UAE, there are opportunities for companies to help manage the different facilities available in the country for energy generation. Therefore, if you want to invest in the UAE, the management of energy facilities is one choice that you can explore if you have the experience and resources necessary.
Start a Business in Dubai
Do you have an idea but don't know where to start? Well, nothing to worry about, as Shuraa has got you covered. We specialize in the formation of companies across the UAE. Our specialists ensure that your company's productivity and affordability go above and beyond by offering you a seamless business setup in Dubai.
To know more about company formation in Dubai, contact Shuraa.
Which business is profitable in Dubai?
1. Construction 2. Food industry 3. IT Company 4. Tourism 5. Trading