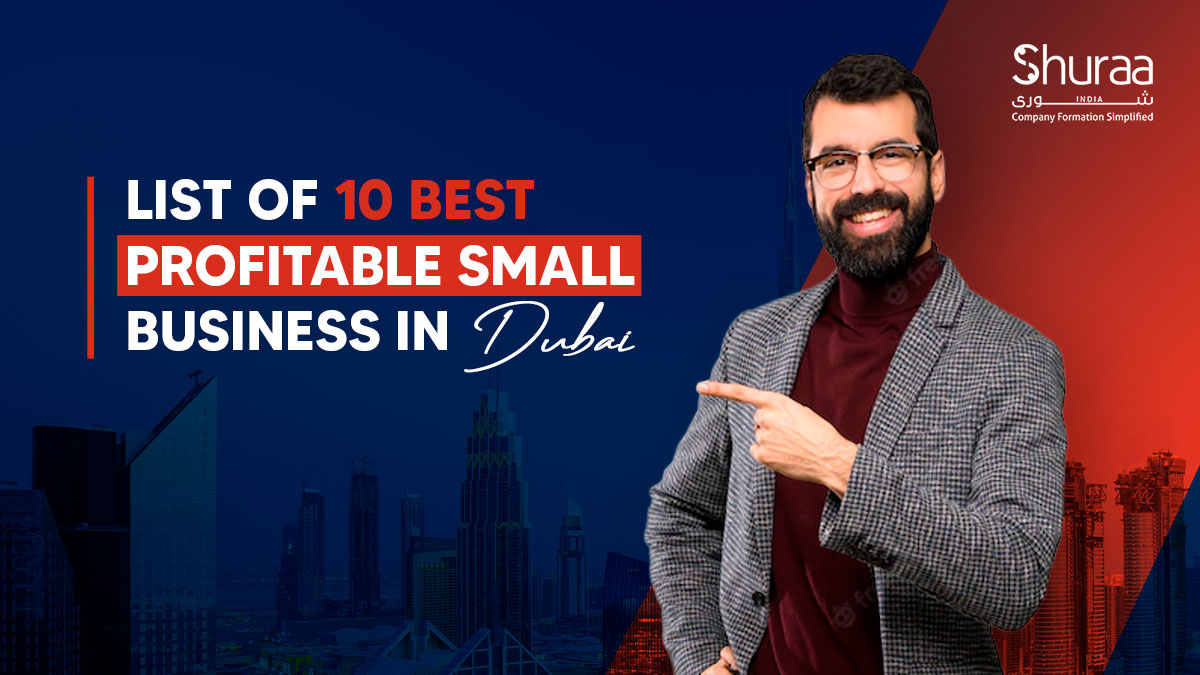 24 Jan

List of 10 Best Profitable Small Business in Dubai

Due to its welcoming environment for investors, Dubai is a dependable location for business investors to move forward and establish businesses there. Dubai is a city of opportunities for big investors thanks to its diverse population and thriving economy. The tax structure in Dubai encourages businesspeople to advance, which is one of its attractions for establishing a company there. Due to the loosening of regulations by the Dubai government, it is now simpler to establish a business in Dubai. 

Thus, you can proceed with company formation in Dubai and select the option that best suits your business acumen. Which is the ideal industry to enter in Dubai? What are some of Dubai's most lucrative businesses? 
Top 10 Small Business Ideas in Dubai 
Here are the 10 Best Profitable Small Business ideas in Dubai for your consideration if you're looking to start a business there. 
1. E-Commerce
Throughout the pandemic, the e-commerce industry has expanded quickly. The ability to order items with just one click has proven to be intriguing. Any product, from cosmetics to bulky items, can be sold online by an entrepreneur who wants to dominate the local, national, and global markets. The e-commerce market in Dubai is just as profitable as any other market. According to research, 91.9% of Dubai's residents have access to the Internet. 
Read More: How to Start eCommerce Business in Dubai
2. Digital Marketing
This type of online business can be launched with a small initial investment, such as website development or digital marketing. The ability to work remotely and online is one of the reasons to launch an online business. The pattern is largely the same in Dubai, where estimates place the annual growth of the digital marketing sector at anywhere between 25% and 40%. Many startups are looking for options for marketing and advertising both online and offline. 
Read More: How to Start a Digital Marketing Agency in Dubai? 
3. Event Management Company
Starting an event-based business is another expanding industry that an investor can concentrate on. The event management sector in the emirate is also discovered to be understandably booming. Many tourists prefer to choose Dubai as their ideal wedding destination because it is a beautiful city. Additionally, it makes a superb location for international business conferences. An event management company can also handle a variety of private events, such as baby showers and engagement parties. 
Read More: How to Start an Event Management Business in Dubai?
4. Tourism
The tourism industry is ideal for business establishment in Dubai. Dubai is a fashion destination for those who love fashion, from the annual Dubai Shopping Festival to the gold and international fashion markets. Tourists adore Dubai's beaches and jazzy nightlife. To help travelers with all the formalities like visas, cruise ships, and hospitality, one can also run a travel agency in Dubai. 
Read More:  How to Start a Tourism Business in Dubai?
5. Construction
In Dubai, the construction industry has grown significantly in recent years. If a businessperson wants to establish a business in Dubai, he will undoubtedly make a profit. In Dubai, new buildings and skyscrapers are capturing the market daily, creating many employment opportunities for engineers and other building and construction industry professionals. 
Read More:  How to Start a Real Estate Business in Dubai?
6. Business Consultancy
Business consulting services have recently seen exceptional growth in the UAE. Investors are voluntarily choosing to invest in this sector and start their businesses due to its enormous benefits and high revenues. Opening a consulting business in Dubai is straightforward. 
7. Financial Services
The financial services audit industry is already well-established in Dubai. Businesses and organisations can get all the essential financial consulting services they require from a financial service provider to operate successfully and profitably. One of the related businesses you can start in Dubai is an accounting and bookkeeping firm. 
Read More: How to get Investment Business License in UAE?
8. Cosmetics
It is anticipated to expand at a CAGR of 4.5% by the end of 2025. The industry comprises cosmetics shops, studios, and other businesses. The cosmetics industry is one of the business sectors where investors can quickly invest and increase their profits. Operating a cosmetics business in Dubai is one of the best low-investment business ideas due to the large number of tourists the city attracts each year. 
Read More: How To Start a Cosmetics Business in Dubai?
9. Café & Restaurant
Market growth is anticipated to occur at a CAGR of 5.22%. Financially speaking, the restaurant industry—which includes cafeterias, coffee shops, tea shops, juice bars, and cold drinks—is very profitable. Due to the rise in tourism, the majority of foreigners choose Dubai as their second home. 
Read More: How to Open a Restaurant in Dubai?
10. Car Rental
One factor is that a sizable portion of the emirate's residents are expats who may decide against purchasing a car while residing in the UAE and instead choose to use public transportation for daily errands and rent a car for longer trips. 
Then there are the growing numbers of tourists visiting Dubai, which have increased by roughly a million each year and are projected to reach 20 million this year. Most of these guests will require a car to get around and are prepared to pay for the convenience. 
 All these factors and more contribute to the emirate's huge and growing car rental industry. 
Read More: How to Start a Car Rental Business in Dubai?
Benefits of Doing a Small Business in Dubai
For the convenience and security of investors as well as the country, the Dubai government has also created flexible policies for conducting business internationally. Investors swarm to the city to launch startups, sister franchises, and multinational corporations as a result.
The government of Dubai made a wise and advantageous choice when it decided to permit foreign investors to establish corporations anywhere in the Emirates. Let's examine a few of the many advantages of establishing a business in the United Arab Emirates.
Low financial commitment is needed.

Flexible options for locating the ideal location to start a business.


Value for the time and effort and low risk.

Exposure to the market and connectivity.
In the modern era of networking and the digital world, it is crucial for any new or small business to establish its own network in order to develop a solid reputation through word of mouth and eventually have successful business prospects. With everything mentioned above, it is crucial for any small business to find a trustworthy business setup partner who can guide them through the establishment process while adhering to all applicable laws.
Start a Small Business in Dubai with Shuraa
Since 2001, Shuraa Business Setup Services has been providing dependable services to local and immigrant business owners. We are among the top business setup services in the nation thanks to our open dealings, trustworthy services, and reputable performance. We take great pride in having spent more than 20 years assisting people with big dreams.  
We guarantee first-rate assistance with business setup in Dubai along with the list of top 10 Best Profitable Small Business in Dubai. Contact Shuraa right away to start your path to wealth.